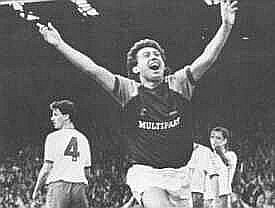 Ian Britton scores the winner
The very date of the 9
th
May 1987 is etched onto the heart of most Clarets fans and everyone old enough to be around at the time has a story of the day whether they were at Turf Moor or on the other side of the world.
As part of the The Orient Game section we gathered together a selection of supporters memories from the day and I have to say that it is one of my favourite parts of the site, the passion for Burnley FC comes out in every word.
With it now being the 16th anniversary of that fateful day we are asking once again for you to send us your recollections no matter where you were or what you were doing to add to this permanent part of the site.
Here is a selection of some brief snippets from the memories we have received so far.
When the results came through my dad lifted me so high I banged my head on the ceiling.
At the end of the game my father and I just looked at one another, hugged and then cried.
I was in the middle of a rainforest in the Usambara mountains of Tanzania.
This game changed me and the way I looked at my football club…changed me forever.
When the final whistle blew I just jumped up and ran into the sea shouting and screaming.
As a 15 year old it was my first ever game at the Turf…I have missed 10 home games in the last 15 years.
Sheer terror every time Orient crossed the halfway line.
The colour, the noise, the passion, the tension, the emotion, you could touch it.
Whatever your contribution, be it a couple of sentences or a pouring out of your heart we would love to add them to the collection.
To send us your memories by e-mail just click here on The Orient Game