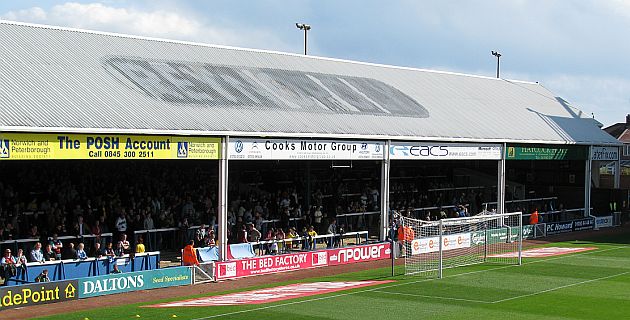 The away end at Peterborough, the only club with terracing in the Championship last season
Those transfers had gone past 100 and, up to last night, all clubs had made at least two signings other than the Udinese franchise at Watford. That all changed late last night when they confirmed their first summer signings, quickly followed by their second, third, fourth, fifth, sixth and seventh.
It's not quite how it looks in truth and the signings are, in the main, as you would expect. They've taken former Arsenal goalkeeper Manuel Almunia and QPR defender Fitz Hall but the other five were already Pozzo family players.
Three of those five have arrived from parent club Udinese on season long loans and the other two from the Spanish franchise at Granada.
A week ago it was a couple of big names being linked with the English Udinese franchise, those of Fillipo Inzaghi and Alessandro Del Piero.
That's not happening, and in fact Inzaghi has now hung up his boots and has become a youth coach with AC Milan. He made just seven appearances, all as a substitute, for the Rossoneri last season but, despite being 38, he was still very much in demand.
Nottingham Forest, the other club taken over recently, will not become another Manchester City, that is according to their iconic manager Sean O'Driscoll. The Kuwaiti owners have said they will invest £20 million for new players and that led to a belief they were on a massive spending spree to try and ensure a quick promotion.
O'Driscoll himself admitted that he didn't fit the 'iconic' label and when he learned of it he joked: "It was a big surprise, but a pleasant one. I didn't know they were looking for an iconic manager, I heard that afterwards, but most of the iconic managers I know are dead."
He's had a busy week strengthening his squad. His first move was to bring back Adlene Guedioura from Wolves and he's since signed Stoke's Danny Collins, Greg Halford from crisis club Portsmouth and Southampton left back Dan Harding.
Halford from Portsmouth. He is one of the players that just had to leave Fratton Park to try and ensure the League One club has a future. Many of the rest seem to be heading for West Yorkshire.
Leeds United manager Neil Warnock said, during QPR's promotion season, that he couldn't pay the sort of wages Portsmouth were paying, whilst admitting that he would have liked to have signed both Dave Kitson and Liam Lawrence.
He's still not signed them but four of his summer signings list Portsmouth as their most recent club. Jason Pearce was the first to sign and he's been followed by Jamie Ashdown, Luke Varney and David Norris.
Finally, in this quiet week, Peterborough United had big news when it was revealed that their London Road ground attracted more away fans than any other ground last season in the Championship.
The average number of visitors per game at Posh was 1,971 and was the highest in the entire Football League. Chairman Darragh MacAnthony was impressed but I'm not so sure he should have also boasted that those games also boasted the highest away fans in proportion to home fans attending. That just highlights their poor home support.
Out of interest there were 1,236 Burnley fans at our game at Peterborough so we were well below the average. They are well placed geographically, which helps, but was a deciding factor them being the only Championship club to provide terracing for away fans?
This week is likely to be more of the same. More pre-season friendlies and a few more signings. How many more will arrive at the Udinese franchise base in Hertfordshire?