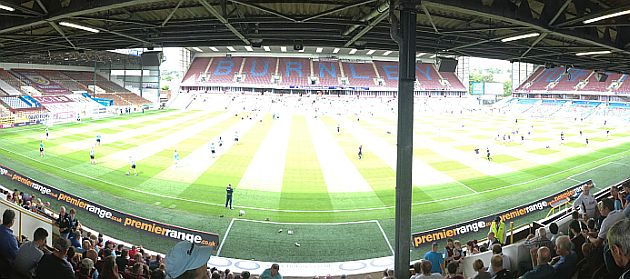 The league table means absolutely nothing just yet. All but Doncaster and Wigan have played twice and the season is just getting underway. if it meant much we'd be shouting from the roof tops at our lofty perch in fourth place.
As much as it means nothing I suspect the supporters of those teams in the top three are somewhat happier than those supporting any of the bottom six right now.
But, as said, it means precious little. The last time we lost the two opening fixtures was in 2008. We scored one goal, that by Martin Paterson at Hillsborough, and conceded seven. That return would see us bottom of the league this season. We went on to win promotion that season.
Two years earlier we won the first two games, and without conceding a goal. That was the season we managed to achieve a run of 18 consecutive league games without a win, the second worst run in the club's history. It's happen as well we started and ended the season well.
So there isn't a lot we can read into things right now. Forest are the only team still to concede a goal whilst both Barnsley and Millwall are still searching for their first goals. Watford have scored the most and Bournemouth have conceded the most, no surprise given that the Udinese Franchise scored six times on Saturday against Bournemouth.
They've bent the rules last season. The Football League have again shut the stable door after the horses had bolted but Watford have found a way round them.
Today they signed Algerian international Essaid Belkalem from Granada on loan. He's their only loan signing this summer but he joins three other Granada players and a grand total of eight Udinese players at Vicarage Road who have all landed there on permanent deals.
They don't look as though they are going to get back the one player they wanted more than any other. That's Matej Vydra, last season's Championship Player of the Year. He looks set to sign for West Brom.
The star for Watford on Saturday was Troy Deeney. He netted the league's first hat trick of the season. It was the first hat trick by a Watford player since April 2003. That was the occasion of their 7-4 win at Burnley when former Newcastle striker Michael Chopra scored four times.
Deeney scored 19 league goals last season for Watford, beaten only by Glenn Murray, Jordan Rhodes, Charlie Austin, his former team mate Vydra, and Chris Wood in the Championship.
He's already leading the way this season with four goals.
The weekend results are below along with the stats, the red and yellow card count from the first full week of the season, and next weekend's fixtures.
The Results
Saturday 10th August

BLACKBURN ROVERS 0 NOTTINGHAM FOREST 1

HUDDERSFIELD TOWN 1 QPR 1

BLACKPOOL 1 BARNSLEY 0

IPSWICH TOWN 3 MILLWALL 0

BOLTON WANDERERS 1 READING 1

SHEFFIELD WEDNESDAY 1 BURNLEY 2

BRIGHTON & HOVE ALBION 1 DERBY COUNTY 2

WATFORD 6 BOURNEMOUTH 1

CHARLTON ATHLETIC 0 MIDDLESBROUGH 1

YEOVIL TOWN 0 BIRMINGHAM CITY 1

Sunday 11th August

LEICESTER CITY 0 LEEDS UNITED 0
The Stats

Biggest Win

WATFORD 6-1 v BOURNEMOUTH (home)

Total Goals Scored

24 (14 home - 10 away)

Player Scoring Most Goals

3 - TROY DEENEY (WATFORD) v BOURNEMOUTH

Highest Attendance

26,238 - BRIGHTON & HOVE ALBION v DERBY COUNTY

Lowest Attendance

8,717 - YEOVIL TOWN V BIRMINGHAM CITY

Total Yellow Cards

43

Total Red Cards

2

Most Cards in a Game

BRIGHTON & HOVE ALBION V DERBY COUNTY (8Y) Ref: ANDY D'URSO
Leading Goalscorers (League Only)

4

TROY DEENEY (WATFORD) - includes 1 penalty

3

LEWIS GRABBAN (BOURNEMOUTH)

2

GABRIELE ANGELLA (WATFORD)
DANNY INGS (BURNLEY)
CHRIS MARTIN (DERBY COUNTY)
DARREN PRATLEY (BOLTON WANDERERS)
JOSE ULLOA (BRIGHTON & HOVE ALBION)
Hat Tricks
Date

Player & Game

10/08/13

3: TROY DEENEY - WATFORD v BOURNEMOUTH (home)
Disciplinary Record (League and Cup)

Club

Y

R

Y

R

Club

Y

R

Y

R

League

Total

League

Total

BARNSLEY

1

1

1

1

IPSWICH TOWN

3

0

4

0

BIRMINGHAM CITY

8

0

11

0

LEEDS UNITED

4

0

5

0

BLACKBURN ROVERS

3

0

5

1

LEICESTER CITY

3

0

3

0

BLACKPOOL

3

0

4

0

MIDDLESBROUGH

3

0

3

0

BOLTON WANDERERS

3

0

3

0

MILLWALL

3

0

3

0

BOURNEMOUTH

2

0

4

0

NOTTINGHAM FOREST

3

0

3

0

BRIGHTON & HOVE ALBION

4

0

5

1

QUEENS PARK RANGERS

2

0

2

0

BURNLEY

3

0

4

0

READING

3

0

3

0

CHARLTON ATHLETIC

1

1

3

1

SHEFFIELD WEDNESDAY

5

0

7

1

DERBY COUNTY

6

0

8

0

WATFORD

3

0

5

0

DONCASTER ROVERS

2

0

2

0

WIGAN ATHLETIC

1

0

3

0

HUDDERSFIELD TOWN

3

0

4

0

YEOVIL TOWN

4

0

8

0
The Next Fixtures
Friday 16th August

DONCASTER ROVERS v BLACKBURN ROVERS

Saturday 17th August

BARNSLEY v CHARLTON ATHLETIC

MIDDLESBROUGH v BLACKPOOL

BIRMINGHAM CITY v BRIGHTON & HOVE ALBION

MILLWALL v HUDDERSFIELD TOWN

BOURNEMOUTH v WIGAN ATHLETIC

NOTTINGHAM FOREST v BOLTON WANDERERS

BURNLEY v YEOVIL TOWN

QUEENS PARK RANGERS v IPSWICH TOWN

DERBY COUNTY v LEICESTER CITY

READING v WATFORD

LEEDS UNITED v SHEFFIELD WEDNESDAY (12:15)