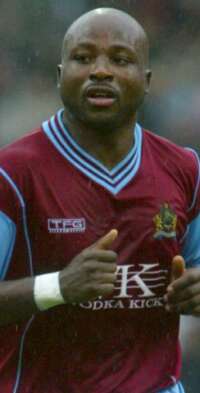 Arthur has quickstepped out of the squad
The only first team players unavailable are Paul Weller and Arthur Gnohere who both have hamstring injuries, Arthur apparently according to Stan getting his doing the quickstep.
But the squad has been strengthened by the signings of Bradley Orr, Paul Rachubka and Neil Wood who could all play a part at the JJB Stadium.
With Joel Pilkington and Matt O'Neill not expected to feature it will mean us selecting from a squad of seventeen players with the new boys added to last week's squad minus Arthur and presumably Nathan Abbey.
But will the new lads start or sit on the bench? Last time we signed three in a week – Delroy Facey, Gareth Farrelly and Andy Todd – all three started with Richard Chaplow and Ian Moore being left out.
They were all players with experience though, two of them considerable experience whereas the new threesome have very little first team experience.
I suspect that Orr and Wood will start on the bench but the big question for me surrounds Rachubka. He has clearly not been signed as cover, had that been what was required then we have Abbey who can take the bench seat.
So I would not be surprised to see the American born keeper from Charlton get the nod ahead of Brian Jensen – but we will have to wait and see.
We could line up: Paul Rachubka, Lee Roche, Mark McGregor, David May, Mo Camara, Glen Little, Richard Chaplow, Tony Grant, Alan Moore, Robbie Blake, Ian Moore. Subs: Brian Jensen, Bradley Orr, Neil Wood, Luke Chadwick plus either Dean West or Graham Branch.
Wigan manager Paul Jewell is also able to select from a bigger squad this week with his injury problems easing. Loan signing Alan Rogers is injured so has returned to Leicester and former Watford player Peter Kennedy who scored at the Turf will also be missing.
They have been boosted though with the return to fitness of both Steve McMillan and Andy Liddell and that will without doubt give them options.
The Latics will select from John Filan, Leighton Baines, Ian Breckin, Jason De Vos, Nicky Eaden, Lee McCulloch, Steve McMillan, Michael Flynn, Jason Jarrett, Jimmy Bullard, Gary Teale, Nathan Ellington, Jason Roberts , Andy Liddell, Neil Roberts, Paul Mitchell, Matt Jackson, Gary Walsh.