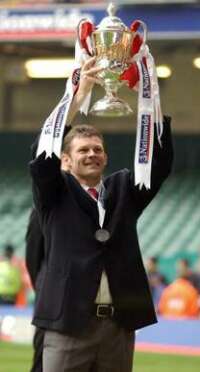 Steve Cotterill at the Millennium Stadium with the 3rd Division Play Off Trophy
Cotterill has been very much in demand following his exploits at Whaddon Road, as we know to our cost, and has been targeted by both Portsmouth and Wimbledon besides the league's Icelandic club in the Potteries.
His record as a manager is exceptional after taking over as caretaker boss at Cheltenham in January 1997 when they were members of the Dr. Marten's League. His first promotion came at the end of that season with and a place in the then Vauxhall Conference.
They finished second in their first season and won it second time round to win a Football League place for the 1999/2000 season. They finished eighth and ninth in their first two seasons but it is in the last year that Steve Cotterill has come to prominence.
They went one better this season and ended the season in fourth place to qualify for the play offs, only missing out on automatic promotion on the last day. They beat Hartlepool on penalties before going on to beat Rushden & Diamonds in the final with a well deserved victory.
Not satisfied with that they beat Oldham in the FA Cup to reach the 4th round for the first time in the club's history and then saw off an under par Clarets to win a place in round five where they were beaten by West Brom.
Cotterill said all along that he would be looking for a bigger club and Cheltenham, to their credit, have allowed him to go. Three promotions in five years isn't a bad start and isn't far behind Stan's record, three in four years from 1996 to 2000.
With no Scottish clubs currently in the Nationwide League Division One, despite further secret talks with Mr. Pompous, Steve Cotterill has now chosen to manage the only Icelandic club in English football as successor to Gudjon Thordasson who was sacked after winning promotion.
It will give our matches against them next season an extra edge, we owe him one after that cup tie.