We know two of our three professional goalkeepers are no longer with us. On Monday the Clarets' longest serving player Brian Jensen revealed that he was not being offered a new contract, confirmed later in the day by the club, this coming two days after his farewell cameo at the end of the Ipswich game.
Lee Grant followed yesterday as he left for Derby, signing a three year deal with his first club where he made 74 league appearances before signing for Sheffield Wednesday in the summer of 2007.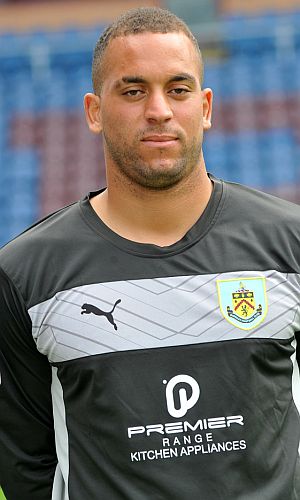 Has Jon Stewart left with Jensen and Grant?
That leaves just Jon Stewart, or does it? Although there has been no confirmation from the club it is thought he might have already left as his contract comes to an end.
Previously with Bournemouth, where his contract had been terminated, he joined Burnley in August 2011 having been the mystery player on our pre-season tour but his only first team action during two years with the Clarets has come with two loans in the Blue Square Premier League with Alfreton where they nicknamed him Beast.
Two gone or three gone? Either way there is a need to bring new goalkeepers in but I don't think any of us expected last night's news, brought to us via Twitter by a Whitby Town fanzine, that one of them would be Nick Liversedge.
"All the best to Nick Liversedge, the fanzine player of the season, who departs the Blues to sign for Burnley!" it read, and that led to some rather negative comments on the message board. "Looks like we've been sold a pup," said Walton having read comments on a Darlington message board from three years ago, although there was some balance from claretnick with LancasterClaret commenting: "Written off before he even arrives. It's a CM tradition!"
Liversedge was with Darlington in 2009/10, their last season in the Football League. His debut might not be one to remember. He was in goal at Elland Road for a Johnstone's Paint Trophy game against then League One Leeds. They lost the game 2-1 and he found himself sent off by Premier League referee Anthony Taylor right at the end of the game after bringing down Enoch Showunmi.
He went on to play 15 times for Darlington that season, playing in their last ever league game at home to Dagenham & Redbridge in May 2010.
Released by Darlington at the end of that season he moved on to Northern Premier League club Whitby Town. On their web site it reads: "At 6'4", Nick commands his area well and is agile with good handling. A tremendous shot stopper, superb one-on-one and a good record from penalties."
In his first season at Whitby he played under ex-Claret Tommy Cassidy, but when he moved on it was Darren Williams, the former Sunderland defender, and it was against Sunderland that it is believed Liversedge donned the goalkeeper's jersey at Turf Moor.
If reports are correct, he's been at Turf Moor and played in the behind closed doors game against Sunderland last Tuesday, a game our development squad lost 2-1.
With Darren Randolph still considered the main target to replace Grant as first choice goalkeeper it could well be that Liversedge has impressed enough to be brought in to provide some of the backup lost with the departure of Jensen and potentially Stewart.
I don't have a record of goalkeeper signings from non-league football by Burnley but in the summer of 1975 we did bring in Atherstone Town goalkeeper Gerry Peyton. He went on to play 608 league games for various clubs, including 30 with us, and play 33 times for the Republic of Ireland. For the last ten years he has been the goalkeeping coach at Arsenal.