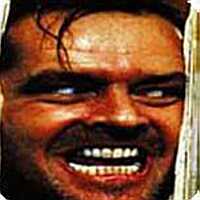 Glen Little?
Now what could the top 50 Horror Movies and Burnley FC have in common? The truth is out there.
It's this, and I apologise for being slightly off the wall with it but if you take the squad number of a Burnley FC player and correspond it to a number in the Internet Movie Database (IMDb) list of top 50 horror films you get some rather spooky results. The idea for doing this came from Danny Baker on Radio 5 so please don't hold me responsible for the following.
Number 1 is of course Nik Michopoulos but if you look in the IMDb at their number 1 you will find he is actually 'Psycho'.
Paul Cook at number 8 is known for being a bit gobby so you shouldn't be surprised that his film is 'Jaws'. Steve Davis has always struck me as being fairly normal but maybe that's just what he wants you to think as according to the IMDb he is 'Alien'.
Some people have said that Glen Little is so important to the Clarets that we are a one man team so maybe it's right that he should be 'The Shining'
I can't make my mind up about Graham Branch as 'The Exorcist' or Brad Maylett as 'Braindead' but I can go for Lenny Johnrose as 'Young Frankenstein' and especially Tony Grant as 'The Bride of Frankenstein'.
I know that Clarets fans have differing views on Dean West but 'Silence of the Lambs' sort of adds a whole new dimension to our number 2 and it would be completely unfair for Dimitris Papadopoulos to become known as 'The Night of the Living Dead' but that's what he becomes if you follow the formula.
Arthur Gnohere is apparently 'Rosemary's Baby' and Luigo Cennamo is rather appropriately named for a goalkeeper, as he is 'Repulsion'
Some work better than others of course but what about Tony Ellis at number 30? Was he really 'The Nightmare Before Christmas'?