They don't come much bigger than some of those who have already arrived at London Road since the end of last season. Their first signing was that of Nathanial Knight-Percival from Wrexham and more recently they added Wolves' Nathanial Mendez-Laing to their squad.
Eddie Izzard becomes a Palace director
I think most Posh fans have got the hang of the 'big name' idea by now, but for those who haven't they've, just today, completed the signing of young Coventry midfielder Jonson Clarke-Harris.
It begs the question as to whether supporters are being charged by the letter to have a players' name on their replica shirts. We used to, which is probably why Cox was so popular and Papadopoulos less so.
Now, if it's big names you want then look no further than Crystal Palace. Some might say they've always been a bunch of comedians and Ronnie Corbett was certainly a supporter as is Jo Brand.
Also on the list of fans is Eddie Izzard and he's taken his support further by becoming an associate director. "I am very happy to lend my support to Crystal Palace by becoming an associate director," he said.
"I have circled the idea of trying to do something to help Palace for years and now I'm in. What I can actually do, I'm not sure, but if you know anything about me, I am a determined bastard and I don't like to give in."
He added: "I've been a fan or a supporter since 1969. At times I've been a fan and at times I've been just a supporter because I'm afraid I'm a bad loser and if we don't win games, I don't deal with it well.
"I tend to swear in front of children and shout at televisions in pubs. I know everyone has to deal with this and I've tried to mature my behaviour as my life has progressed, but in this one area I am still like the teenager I was in the 70s."
Palace chief executive, Phil Alexander, described him as an iconic entertainer. Maybe they got in just in time to prevent Nottingham Forest moving in as part of their search for icons.
With Sean O'Driscoll now in place, the Al-Hasawi family have now moved to the stadium. They have plans to build a new one but until then will invest in the current City Ground.
There had been plans to build a new £100 million stadium as part of the 2018 World Cup, but given that's going to be in Russia it left the plans in tatters, or should that be Blatters?
There are still more questions than answers at Udinese Feeder FC, aka Watford. Some top players have been linked with them, including Filippo Inzaghi and Alessandro Del Piero (now there's a couple of icons for you).
As yet, nothing has happened other than new manager Gianfranco Zola bringing in the changes to the backroom staff. Former manager Sean Dyche had already gone and following him down the Yellow Brick Road from Vicarage Road are Ian Woan, Tony Loughlan and Dave Hart.
In their places, and in a few other places, are Giancario Corradini, Dodo Sormani, Marco Cesarini, Giorgio Gasparini, Richard Line, Filippo Giraldi, Robert Leeson and Luke Warrington.
At this time, all of Alec Chamberlain, Matt Springham, Dave Stephens, Ben Dixon, Will Jones and David Hughes are all reported to still be at the club.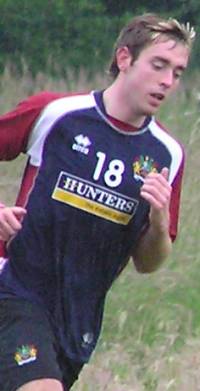 Richard Keogh joins Derby
Meanwhile Zola has been pleased with the showing of two trialists Almen Abdi and Daniel Pudil. Abdi is from parent club Udinese whilst Pudil is currently with their Spanish feeder club Granada.
One thing for certain is that football clubs need the right people running them, people who can run the football side as well as the business side and people who can ensure there is a very good relationship between a club and its supporters.
Blackburn fans must be thrilled then to hear that, according to Venkatesh Rao, they've got just the man in Shebby Singh.
Rao has expressed concern that supporters might not just have been in tune with owners and manager last season. "Unless they are happy, we are not happy," Rao said. "The day they are happy, we are happy.
"We are trying to bring all of the changes, whether it is players or management, at the end of the day the fans will look at the results.
"Now he (Singh) is here to talk to the fans, build relations, tackle the local problems day to day and see they are satisfied. He is right there at the ground level and that's what he's doing now, not only talking to fans but also talking to players, talking to other management."
To get the fans on side he confirmed that Steve Kean would be continuing as manager but admitted he would now be under pressure to take them straight back up. I bet that's gone down well with the protest groups.
Over at Derby, some of the fans were still trying to get their season ticket money back following the sale of Jason Shackell to Burnley. They've since signed Richard Keogh, who was once confirmed as a Burnley player for about a day, from Bristol City as his replacement. It seems to have placated some, but not many.
Finally, have your bingo cards at the ready. As teams got underway with their pre-season games, Bolton travelled to Scotland and played their opening game against Hamilton Academical, going down to a 2-0 defeat.
Manager Owen Coyle was far from concerned but did say after the game that they did want to win every game they enter into whilst adding that it was an enjoyable exercise with the two teams going toe to toe with each other.