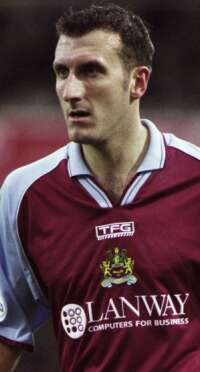 Glen Little - early introduction as a substitute
Stan says we throw one in now and again but this is not good enough and we can't afford to keep throwing them in. According to the manager we are chasing a play off place but even with Barry Kilby's dream of eighth place there is little likelihood of the Clarets extending their season this time around.
It looked less than favourable even before kick off this afternoon when the teams were announced and we opted to play against their five man midfield with just three. Our pre-match discussions centred on just how early the first corrective substitution would come and we reckoned Glen Little would be on around the half hour point.
As it was we were out by six minutes and Glen entered the contest on 24 minutes with Mark McGregor the unlucky one to come off. Macca had done nothing wrong at full back but he had to give way whilst the already disappointing Briscoe moved there with Blake dropping into midfield.
Those first 24 minutes had been awful and the only consolation was the fact that we were still level at 0-0 but Reading by this time had the initiative and it was going to be difficult to change that.
It certainly didn't look as though things were going to change and in fact things went worse when Reading took the lead with a controversial goal. Forget the shouts for offside but it came from a throw in that simply wasn't. Paul Cook kept the ball in play by some distance, there was not even a sign of the ball even reaching the line, but the assistant had assumed Cooky wouldn't reach it and up went the flag.
That was no excuse though for losing concentration and we cannot blame a bad throw in decision in the opponents half of the field for conceding a goal. It wasn't offside and questions really do need to be asked about our offside trap and just how easy it is to beat it.
By half time it was 2-0 and although a superb finish by John Salako it was just ridiculous how easily we conceded the goal and the two full backs need to take a serious look at their contributions.
The goal, so similar to so many that we concede, saw us fail to cut out a cross field ball out to their right and when the ball came in Salako in the wide left position was left to do just what he wanted.
It was something of a relief to get off at half time and surely it couldn't go worse in the second half.
After a spell in midfield and then a spell at full back of came Briscoe to be replace by Alan Moore. Now if we could just have a goal early in the second half then we could still make a game of it.
And to be fair we did go looking to get back in but it took Reading very little time to extend the lead with another goal very much like the second. Again it was a good finish from Salako but weren't we just making it easy for him.
The goal we had so desperately needed came three minutes later but was it too little too late by now when Ian Moore hammered home from close range?
With just over twenty minutes to go Robbie Blake made his exit to be replaced by Dimitri Papadopoulos and this substitution was to prove significant just a few minutes later when we were awarded a penalty.
With Blake off the pitch penalty duties look to have been given to captain Paul Cook who strode up purposefully only to see our Greek striker clutching the ball demanding to take the kick. Last time he did this (at Gillingham) Blake wrestled the ball from him but this time he was given his chance.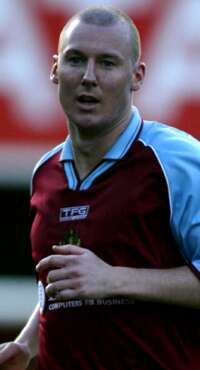 Lee Briscoe - came off at half time
He failed to take the chance and hit a very weak effort that Marcus Hahnemann saved with some ease. With around 16 minutes left a goal then to take it back to 3-2 would have made it interesting but within five minutes there was a penalty at the other end when Marlon brought down a Reading forward.
There was no argument with the award of the penalty and no argument with the yellow card but there was clearly an argument between Reading's Nicky Forster (the nominated penalty taker) and John Salako (the two goal man). Both wanted to take the spot kick and after they had played at Blake v Papadopoulos it was Forster who saw his kick superbly saved by Marlon.
But Sidwell hit home the rebound and another heavy home defeat was assured. This was Sidwell's second and they were his first goals since he scored a brace for Brighton against us at the end of December. And he looked a good player today.
Not many of the 80% who had bothered to turn up in the first place remained for much longer and those who left missed quite a bit. They missed a bad miss from Reading, another Reading goal and Reading hitting the woodwork – oh yes, and a second for Burnley scored by Dean West with a long rang shot that went in like a rocket.
Incredibly with the score at 5-2 some idiot decided that we should still get to hear Tom Hark. As bad as this is when we take the lead it is totally embarrassing when we pull it back to 5-2 in stoppage time. Please, somebody stop this bloody music now and/or get rid of the fool responsible for playing it. It is bad enough getting stuffed without giving the visiting supporters ammunition to rub it in even more.
But it has really been another bad day and for those of you who still think we might make the play offs I would suggest you forget it. This hasn't brought to an end a good run of form as some have suggested . We have won only one league game since the win over Forest at the beginning of December and have collected just six points from the last seven league games and conceded twenty goals.
We are not going to make the play offs because we simply are not good enough, it might be hard to take but this side is capable of turning in too many bad displays to even get close. Likewise I don't think we are relegation candidates but having said that the sooner we have reached safety the better I'll feel.
Man of the Match for me today was Mark McGregor. In the 24 minutes he was given he got nothing wrong and can count himself very unfortunate to have been the one chosen to come off as we tried to get the formation right.
And we cannot blame the referee, he had a decent enough game and used some common sense particularly with the crucial penalty decisions. He cannot be blamed for having to put up with an assistant who cannot see straight.
It's Coventry next week and thoughts will turn to our performance there last year – unless there is a massive improvement on today we won't be able to expect anything like it this year.
I've said it before and I'll say it again – oh for a Bally in midfield to stop making it so easy for sides to attack us.
The teams today were,
Burnley: Marlon Beresford, Dean West, Driss Diallo, Arthur Gnohere, Mark McGregor (Glen Little 24), Tony Grant, Paul Cook, Lee Briscoe (Alan Moore 45), Ian Moore, Gareth Taylor, Robbie Blake (Dimitri Papadopoulos 69). Subs not used: Nik Michopoulos, Ian Cox.
Reading: Marcus Hahnemann, Graeme Murty, Adie Williams, Steve Brown, Nicholas Shorey, Andrew Hughes (Darius Henderson 76), James Harper (John Mackie 75), Steve Sidwell, Ricky Newman, John Salako, Nicky Forster. Subs not used: Nathan Tyson, Jamie Ashdown, Jamie Cureton.
Referee: Roy Pearson (Peterlee).