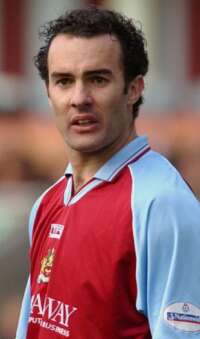 Graham Branch - still receiving treatment for a hamstring injury
There are so many players unavailable to Stan that he has brought Earl Davis back from his loan spell at Stalybridge Celtic two weeks before the end of the month and looks set to go straight into the squad.
Definitely out for the Clarets are Glen Little, Gareth Taylor and Dean West (all suspended) and Steve Davis and Andy Payton (injured) although Payts wouldn't have expected to make the squad. Davis is out long term with a knee injury whilst Payts is recovering from a hernia operation.
Stan has said that Lee Briscoe (groin) and Graham Branch (hamstring) are still receiving treatment and surely neither of them will be risked no matter how deep the crisis.
One other player who could be out is Brad Maylett. He hasn't featured in the squad in recent weeks despite the numbers being down although there has been no report whatsoever of him having any injury.
There is some good news. Paul Cook back in training after his shoulder injury and he will almost certainly be drafted in whilst Nik Michopoulos has returned from his loan spell at Crystal Palace and provides us with goalkeeping cover.
So it is just a matter of who is available and a side will be chosen from those. From what I can see this means Stan will be selecting from:
Marlon Beresford, Nik Michopoulos, Andy Leeson, Earl Davis, Ian Cox, Arthur Gnohere, Mark McGregor, Gordon Armstrong, Paul Weller, Tony Grant, Paul Cook, Andrew Waine, Alan Moore, Matthew O'Neill, Mark Rasmussen, Robbie Blake, Ian Moore, Dimitri Papadopoulos.
Your guess is as good as mine and much will depend on what system Stan he plays. With West, Branch and Briscoe all missing he could decide on three central defenders and use Paul Weller and Alan Moore as wing backs. There again he could use Gordon Armstrong at left back. With Stretch hardly fully fit I suspect we could go with the three central defenders and could see us lining up: Marlon Beresford, Paul Weller, Ian Cox, Mark McGregor, Arthur Gnohere, Alan Moore, Ian Moore, Tony Grant, Paul Cook, Robbie Blake, Dimitri Papadopoulos.
Subs: Nik Michopoulos, Gordon Armstrong and two from Earl Davis, Andy Leeson, Andrew Waine, Matthew O'Neill and Mark Rasmussen.
Things are a great deal better for Grimsby boss Paul Groves who will only be without two players.
Former Blackburn Rovers striker Steve Livingstone misses the game suspended whilst Alan Pouton is ruled out with a knee injury. There were doubts about Tony Gallimore and Paul Raven who have been out with knee and calf injuries respectively but both have been passed fit.
Groves had hoped to have been able to include his two loan players Jason Gavin (Middlesbrough) and John Oster (Sunderland) in his plans but neither of them remain at the club.
Gavin has returned to Middlesbrough at the end of his loan period whilst Oster was called back early by Howard Wilkinson and he found himself on the pitch at Old Trafford on New Year's Day in the Premiership.
For Burnley fans travelling without tickets you will be able to gain admission with us having sold only half of our allocation of tickets.
Grimsby have also confirmed that both clubs will be playing in their home kits, yes the Clarets will be in Claret & Blue having played last Saturday in that ridiculous amber and black mess.