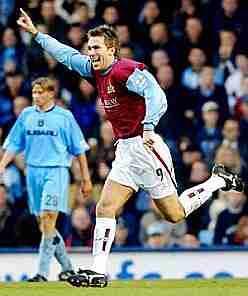 Gareth Taylor celebrates another goal
Since the outbreak of World War 1 Burnley have played 20 seasons in the second English division including this season. Of course this division used to be rather conveniently called Division 2 but now we have to call it Division 1 but I'm sure you know what I mean.
Despite not being in the top flight in those seasons we have had some truly marvellous goalscorers wearing Claret and Blue, players who have been referred to as 'Legends'.
Many current Clarets fans will not have seen a game when we were in the top flight but will remember warmly those days in the late 1970's and early 80's when their hero's were top scoring at Turf Moor in the old Second Division.
Players like Peter Noble, Steve Kindon and Billy Hamilton, names to warm the very cockles of your heart. The thing is that, unless something disastrous occurs, Gareth Taylor is going to out score all of them this season.
With 13 goals from 29 starts Gareth is in fact rather leaving then in the shade. In 1982/83 Billy Hamilton only managed 13 out of 39 starts. In 1978/79 Peter Noble scored 14 out of 41 starts and that included 6 penalties. In 1977/78 Steve Kindon was a hero with his 12 goals in 27 starts.
You don't have to stop there. In 1972/73 we were promoted as Champions and the top scorer was Paul Fletcher with 15 out of 42 starts. The man who Gareth might struggle to catch is Frank Casper who scored 18 in 39 starts in season 1971/72 but maybe even that is not out of the question and it is interesting to note that 4 of Casper's goals were penalties whilst Gareth has 2 spot kicks to his name this term.
From there you have to go right back to 1946-47 for our next season in the second flight and a certain Harry Potts top scoring with 15 in 40 appearances. To find the man who Gareth will never catch you are looking as far back as 1934/35 when George Brown scored a remarkable 21 goals in 31 games but he was really a player who belonged in the higher division having only dropped down to help the Clarets for a single season.
The most notable other was the all time Clarets top scorer Goerge Beel who scored 25 in 41 games in season 1930/31.
You can also put the historical aspect to one side as Gareth looks to be on target for matching the COMBINED total of goals scored by David Eyres, 8 in 1994/95, and Andy Payton's 9 league goals, last season.
I'm not really suggesting, just yet, that Gareth deserves to be mentioned in the same breath as some of the greatest Clarets players of all time and of course this list ignores the players who scored more goals than this in the top division but it makes you think doesn't it?
It also makes you wonder why Gareth is not far more popular with the fans than he appears to be. So the next time someone refers to him as a 'donkey' or refers to his apparent inability to 'trap a bag of cement' you might like to point out his goalscoring record to them.
Up the Clarets.