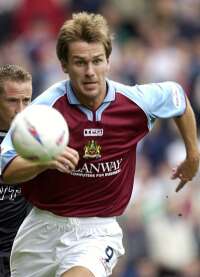 Gareth Taylor - out for three games
Stan launched appeals on behalf of both players after heavily criticising referee Grant Hegley but confirmation has reached the club today that neither of the red cards will be rescinded.
In truth the chances of either or both of them ever being available tomorrow were remote and certainly in Taylor's case the video evidence was of no help. Despite the supposed support of Gillingham's Paul Smith it can clearly be seen on TV that Taylor did make contact, head to head, and although it can hardly be considered a head butt there was enough for the referee to justify his action.
Smith's support could be considered admirable but he should have had more consideration for Taylor when he made a meal of it at the time. He obviously thought better of it after the event but there is no doubt that his reaction made the decision even easier for Hegley.
I did though think that Dean West had a chance of having his red card rescinded, after all the hand ball too place in the opponents half of the field. But technically he was the last defender and the referee strictly, and wrongly in my view, adhered to the letter of the law.
Had the referee chosen to show some leniency after the event he could have reduced it to a yellow card but that would have made no difference whatsoever. West had already been yellow carded for dissent earlier in the game and so he would still have been sent off and would still have received a one match suspension.
This means the Clarets will be without both players for the next game ,and that is currently scheduled to be the cup tie at Grimsby, along with Glen Little who received his fifth yellow card at Gillingham.
For West and Little it is just a one match ban but Taylor will serve a three match suspension having been sent off for violent conduct.