Takeovers, Legends on the move and seven subs
By Tony Scholes
Updated Monday, 4th June 2012
Views: 158
The big news this week in the Championship was that of changes made at the Football League's AGM which was this year held in Portugal.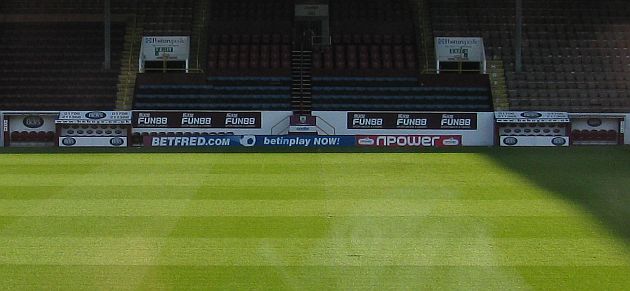 The old dug outs at Burnley - the new ones will house seven subs
Why on earth they have to travel to Portugal for their decision making meetings only they will know, but the two main changes will see the desire to see more players on the pitch staying on their feet and just simply more players on the touchline.
We reported last week that the chairmen will be instructing their managers, coaches and players that they should be cutting out the diving, time wasting and feigning injury.
The news seems to have gone down reasonably well although I'd love to have heard the reaction from Brighton boss Gus Poyet whose disgraceful team seemed to have built their whole plans on such things.
When he doesn't get his own way you will see Poyet leaving early. I suspect there is every chance that he won't even bother turning up for games at all if they have to implement these suggestions.
At least Poyet was happy with the other change, the re-introduction of seven substitutes. He was one of three Championship managers, Sven Goran Eriksson and Eddie Howe were the others, who spoke out against the reduction to five last year.
Last year the news of the reduction was only released around three weeks before the season started. Poyet said then: "The Football League was good enough to say early doors, 21st July, 20 days before the start of the league. That was embarrassing. It was unacceptable but they are the ones that are in charge.
"They don't have a clue how to make a squad. They don't have a clue how to make a bench, but they make a decision because they vote so we need to deal with it. I don't like it."
Howe said: "It's going to be difficult for the players more than anybody. Having to name only five subs is going to leave a few out and in the stands which is never ideal.
"It's also going to mean it's harder to bring young players through which I'm sure isn't why the rule was brought in. It's going to be much more difficult now for young players to make the bench."
I wondered if Poyet and Howe would say anything with the return to seven subs, and neither let us down. "In my opinion this is very good news for the overall development of the game, and for managers, players, clubs and fans. So well done to those involved," Poyet said.
He added: "In this day and age, with the intensity of modern football and the physical implications on players, football is a squad game, now more than ever. Seven places on the bench will provide extra opportunities to those players on the fringes, often younger players, to get experience of being involved with and potentially playing at senior level.
"I, like most managers and I would imagine all players, was against the reduction, so I am really pleased that our views have been taken into account. Maybe we have done things the hard way, but thankfully everyone is now agreed seven subs is much more sensible and more beneficial for the game than five."
Eddie was very much in agreement. "For me personally as a manager I want seven," he admitted. "With five, the money the club save is minimal, it really is, and of course you've got the debate where young players don't get the opportunity to perhaps be on the bench when you'd like to give them a chance.
"I think it's much better going back to seven. If teams want to save money they can still just put five on the bench. They don't have to use seven. I think that's the key point."
Poyet and Howe - peas from the same pod? I don't think so. The only thing we know for certain is that the old dug outs have gone at Burnley to be replaced with new ones that will accommodate the ever increasing numbers found in the technical areas.
Elsewhere in the league there hasn't been too much news in the last week although two clubs look to be set for foreign investment. There's been a firm 'no comment' from Nottingham Forest who admitted that the estate of former chairman Nigel Doughty are dealing with it.
The rumour was that Kuwaiti businessman Fawaz Al-Hasawi was the man set to invest but that appears now to be wide of the mark. There should be more news in the next week with meetings set to be held with the club.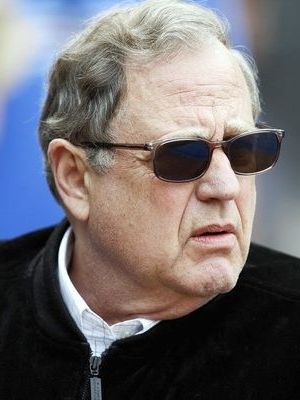 Jerry Reinsdorf is not to be the next Ken Bates
It's Americans over at Leeds but that would mean them dealing with Ken Bates and therefore immediately you have to have some real concerns. The suggestions here are that the consortium are Chicago based but those with big sporting connections in the Windy City are quickly ruling themselves out including Jerry Reinsdorf who owns the basketball and baseball franchises the Bulls and White Sox.
There have been no takeover at Burnley of course. We've got the same five directors but new chairmen with John B and Mike Garlick becoming joint chairmen. I'm told there could be news from the new pair during June although I don't think anyone can expect to see big changes at the club.
There have been two significant departures from clubs in the last week. It went almost unnoticed last Wednesday but former England manager Graham Taylor stood down as chairman of Watford and ceased to be a director of the club.
Owner Laurence Bassini said: "I fully understand Graham's wish to concentrate on is other commitments, but let me make it clear that I'm very disappointed to be losing him as chairman of this club."
For those who think he'll be disappearing from football, you'd better think again. He's joining up with the BBC team for the Euros which get underway this week.
Down at Brighton they were saying goodbye to something of a permanent fixture, their head of youth Martin Hinshelwood. He's held that position for the last 14 years, other than when he took over as manager for a short time in 2002, and previously he'd been assistant manager at the club from 1987 to 1994. He's gone with tributes pouring in from players past and present.
It's all been happening at the Amex. The rather strange looking ground is getting its first redevelopment with extra seating being installed and the place being used for a concert with supporter Norman Cook (aka Fatboy Slim) performing.
One ground where improvements are needed is the Galpharm at Huddersfield. The club have realised, following promotion, that, amongst other things, the club shop is not big enough, they need new offices and better corporate facilities.
They hold no stake in the stadium and have set up meetings with Kirklees Council to try and implement some of the necessary changes.
Further east there is still no news on Nick Barmby's replacement at Hull. The betting was suspended late last week when it looked as though Steve Bruce was a certainty, but the former Sheffield United, Huddersfield, Wigan (twice), Crystal Palace, Birmingham and Sunderland manager has denied ever having spoken to them.
The favourites now appear to be two from League One. Brentford's Uwe Rosler has been constantly linked and he's now been joined by Greg Abbott the Carlisle boss.
Having lost in the play off final, Blackpool chairman Karl Oysten admitted that they'd got their transfer dealings wrong last summer and that had cost them. He claimed they had signed too many players who had made little impact. He reference players such as Bojan Djordjic and Matt Hill.
He has also said there has been no approach for manager Ian Holloway whilst confirming that there is no further work planned at Bloomfield Road. That must mean the temporary Gene Kelly Stand replacement is now considered permanent.
Legends come and legends go. One is on his way out of Bolton Wanderers and this one didn't even score 12 goals for the club. Goalkeeper Jussi Jaaskelainen has turned down a new contract offer and has decided to move on after 15 years with the club during which time he's made 529 appearances.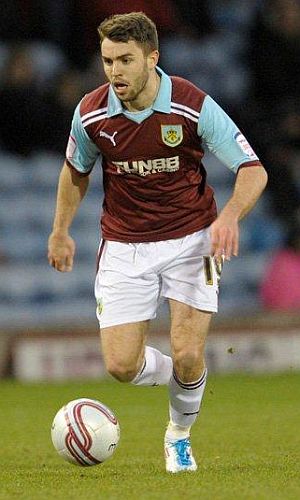 Josh McQuoid has returned to Bournemouth
He's rated alongside Eddie Hopkinson as potentially Bolton's best ever goalkeeper but having lost his first team place to Adam Bogdan decided it was time to move on. He could be joining Sam Allardyce in the Premier League at West Ham.
Jussi might be heading for the Premier League but it is looking increasingly unlikely that he'll come up against Malky Mackay. The Cardiff manager of one year was immediately installed as a favourite for the Norwich City job once Paul Lambert had done what he almost did in January last year and walked out.
However, this morning the Norwich chief exec David McNally has confirmed they are looking for a manager with Premier League experience.
Finally, just a look at the week's transfers. Joel Ward moved to Crystal Palace from Portsmouth for £400,000. We'd been linked with him but on signing for Palace he said it was down to the ambition of manager Dougie Freedman being stronger than that of Paul Jewell and Neil Warnock, suggesting that Ipswich and Leeds were the only two other clubs he'd spoken to.
Ipswich meanwhile snapped up Macclesfield's Elliott Hewitt, Kieran Lee swapped Oldham for Sheffield Wednesday and Millwall completed a double swoop to bring in Chris Taylor from Oldham and Bournemouth's Scott Malone.
Laird made the move to the Den with former Cherries striker Josh McQuoid, who spent three months at Burnley last season making the return to Dean Court. There had been suggestions that Eddie Howe was interested in bringing McQuoid back to Turf Moor but in truth he was not amongst our list of targets.
What will happen next week? Will Agent Kean bring in Colin Hendry to try and appease the Blackburn fans? If so, will those fans still back Hendry or will they turn on him for becoming part of Kean's team? Anything can happen in a week at Ewood Park these days although there is still no further word from Mr Rao or Mrs Desai.
Interact with us