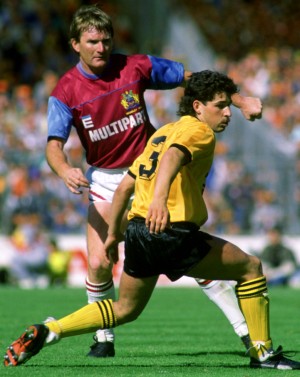 in action for the Clarets at Wembley

Leighton James is I believe the only player to have had four separate spells with the club, he both started and ended his league career with us.



It was 1970 when he made his debut at the age of seventeen and a year later he was a regular in the side and was a vital ingredient in the team that won its place back in First Division and then had two great seasons.



He was sold to Derby in 1975 for a then record fee, and then went to QPR before re-joining the Clarets in 1978 from the London club. He was to have two more seasons with us, as we dropped into the 3rd Division for the first time, and then he was off again, home to Wales with Swansea City.



After Swansea it was Sunderland, Bury and Newport before Brian Miller brought the now 33 year old back to the Turf in 1986. That season ended with the Orient game, and we owe him a great debt. He was leading scorer that season and who knows what would have happened without those goals and the undoubted experience and ability he brought to that side.



Miller released him at the end of that season and his league career looked over but he was back within weeks as youth team coach. Incredibly, in an emergency, he returned to the side and played in the centre of defence, and I might say played well there.



At the end of the 1987/88 season he came on for us as a substitute at Wembley in the Sherpa Van Trophy Final in what looked like a fitting end to his playing career but there were a few more matches to play in the following season after Frank Casper took over before he left Turf Moor for the last time in the summer of 1989.



In total he had played 403 games for the Clarets and scored 81 goals and most supporters of the James eras will list him as one of their favourite players. He was exciting and a great talent.



Some will say he was arrogant, brash, aggressive and a few other choice things and they would be right. He's was also talented, passionate, enthusiastic, confident and he bled claret & blue for us. He was a top player, no doubt about that, and will always be afforded a great welcome at Turf Moor.



Welcome back Taffy.