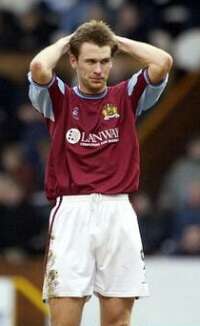 Gareth Taylor - One of three Clarets facing suspension
Fred picked up a fifth yellow card at Crewe a week last Saturday and now serves a one match suspension against Stockport on Saturday. Any players who have less than five yellow cards will not now serve a suspension should they reach that figure.
The end of February cut off date however does not save those players who are already past the five and should they reach the dreaded figure of ten before the second Sunday in April then they will have to serve a further two match suspension.
This means the Clarets will be without both Gareth Taylor and Kevin Ball in future matches as they have both collected a tenth yellow card in the last few days. Taylor got his tenth in the home draw against Norwich and last night Bally picked up a last minute booking in the dreadful defeat at Walsall.
So if you thought that Fred's suspension was the last for bookings this season then you have been misled by information that has been given out by the club.
The outstanding suspensions for our players are: -
Dean West – Stockport County (away)
Gareth Taylor – Preston North End (home) and Bradford City (home)
Kevin Ball – Bradford City (home) and Sheffield United (away).