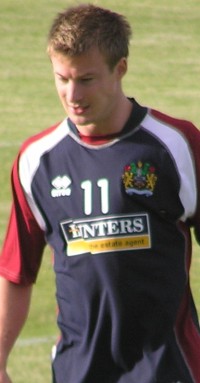 Wade Elliott - back from injury and in the reserves

Both loan players, Keith Lowe and Karl Bermingham, will feature as will new signings John Spicer and Duane Courtney whilst we welcome both Frank Sinclair, Brian Jensen and Wade Elliott back from injury.



The only players in the side without first team experience are Marc Pugh and Martin Reilly who will line up alongside their fellow youth apprentices Kyle Lafferty and Chris McCann.



The Burnley team is: Brian Jensen, Duane Courtney, Martin Reilly, Chris McCann, Frank Sinclair, Keith Lowe, Wade Elliott, John Spicer, Kyle Lafferty, Karl Bermingham, Marc Pugh. Subs: Mark Crossley, Rob Henry, Nicky Platt, Ali Akbar.



The opponents tonight are Wrexham who have maximum points from their first two games. They will line up:

Michael Evans, Mark Harris, Matty Done, Simon Spender, Gareth Evans, Mike Williams, Andy Fleming, Dean Bennett, Marc Williams, Jamie Reed, Chris Evans. Subs: Chris Mullock, Sion Edwards, Aaron Braisdell, Alex Darlington.