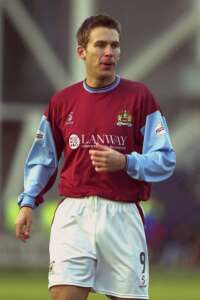 Gareth Taylor - out for three weeks
Gareth Taylor picked up an injury on Saturday that prevented him from returning for the second half. He has an ankle injury plus stitches in his knee and the club have confirmed this morning that he will be out for about three weeks.
To add to this it looks as though we could have seen the end of Dimitri Papadopoulos, for this season at least with a return to Greece on the cards. The club trying to sign him are Aris Salonika and Dimitri is expected to sign for them this week in a six month loan deal.
He should have scored his first goal in the first team on Saturday when through one on one with the keeper but he did play a part in the last goal getting on the end of Kevin Ball's right wing cross to head back for Mooro to get his hat-trick.
It was a good header and certainly confused both BBC and Sky who thought it was Alan Moore. It seems the TV commentators weren't concentrating once they knew Canvey Island weren't going to create another story and they clearly missed the last substitution.
That means we could be going to Wimbledon without both of them and we can also add Glen Little to the list of players missing. Glen has got another hamstring injury and as is the case with Taylor he is expected to be out for three weeks.
Glen had some new boots designed for him but, as is the case with other players at other clubs, he seems destined to be continually troubled with hamstring injuries.