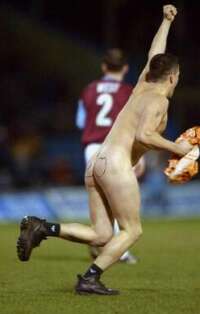 2-0 to the Burn-er-lee, 2-0 to the Burn-er-lee
In what has to be the funniest moment ever at the Turf 20 year-old Sabaen, egged on by his mates, streaked almost the full length of the Turf Moor pitch and back again with the scoreline at the time of 2-0 written on his backside.
He is the only streaker I can ever remember at the Turf but it was not so much the streak but the tackle from Bertie Bee that brought the house down. Forget the rights and wrongs of it all, and neither of them should have been on the pitch, this was funny and should be treated as such.
Sabaen faced court yesterday and a possible exclusion order from all football grounds, including Anfield the home of the team he supports Liverpool, and a potential life ban from Turf Moor. Thankfully the authorities have seen the funny side of it and he has got away with nothing other than a two year conditional discharge.
He was charged and found guilty of insulting or disorderly behaviour and pitch encroachment and after his solicitor told the court that the vast majority of the Turf Moor crowd saw the naked escapade as a prank.
So we have magistrates in town with a sense of humour and that's also the case down at the Turf where they have decided not to give him a life ban. A Turf Moor spokesman told Clarets Mad, "He will be welcome at future games at Burnley as long as he keeps his clothes on".
Sabaen did admit after the case that facing the wrath of his mum was far worse than the ordeal of the court although she had come round since he appeared on Big Breakfast.
I don't for one minute suggest that you should do it again but thanks for the best laugh I've ever had at the Turf.