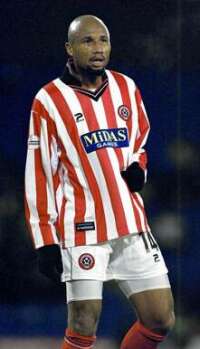 Santos - disgraceful challenge
It's not often we take a look at the rest of the First Division but this has been no ordinary day for the division with a big signing, a relegation and all hell breaking loose.
The signing is of course Gazza joining Burnley and he joined in training as we prepared for our game tomorrow against Preston but what about elsewhere.
It was in this division that saw the one and only league goal from an ex-Claret with Alan Lee scoring a late equaliser for Rotherham at home to Bradford City. We also saw the inevitable first departure with the relegation of Stockport now confirmed. I've got over the disappointment of it not being us that put them down and it was funny to see one Stockport fans sat inside Selhurst Park reading a newspaper rather than watch but even funnier after the game to hear this week's Tw*t of the Week Carlton Palmer say, "I'm not responsible for the relegation".
Nice one Carlton, seventeen defeats in twenty-two games since you took over and it's not your responsibility. That'll do for me and I can assure you and Hell-Wood that your chances of coming straight back up will just not happen. And I think you better take a look at the ever dwindling attendances if you think the fans are behind you.
Play off candidates Millwall and Coventry both lost in games when they were expected to pick up points and then there was Wolves and a 1-0 home defeat against Grimsby. During the afternoon Sky TV announced that a Wolves player had been sent off and laughed at the fact that it was Kevin Muscat. His reputation for thuggery goes before him and after getting away with one forearm smash he went for a deliberate elbow. Even his manager David Jones said it was stupidity and would not defend it.
And finally there was Sheffield United v West Brom at Bramall Lane and the most amazing incidents I have ever seen at this level of football. Sheffield United were down to ten men with their keeper sent off and then went 2-0 down. They made two substitutions and within 90 seconds both of the subs had been sent off for offences that can only be described as disgraceful.
George Santos went for an horrendous challenge on Andy Johnson and before the game could be restarted Patrick Suffo saw red for a head butt on Derek McInnes. Down to eight men and all three subs used Sheffield United then appeared to conjour up two rather suspicious looking injuries that reduced them to six players. At this point referee Eddie Wolstenholme, who had got nothing wrong, had no option to abandon the game.
Needless to say the two managers had differing views but I have to say I can't do anything other than totally agree with West Brom boss Gary Megson. He wants the result to stand and says they will not return to Sheffield to replay it if the Football League say it should be replayed.
Surely the Football League will make sure the result stands and then take very serious action against Sheffield United, Santos and Suffo in particular, and manager Neil Warnock who presided over the whole sorry incident. He spoke at length to his captain Keith Curle who then went out of his way to try and get sent off and it is certain that Warnock was trying to get the game abandoned.
The two players should be suspended now for the rest of the season and Sheffield United should be taking some very serious action over the antics of their manager but will they have the guts to do what they really should do and sack him?
Stan might lose it from time to time and then have a go at someone but he has made it clear on more than one occasion what he thinks of Warnock. He's not the only one with that opinion and today's events just prove that once again Stan is right.