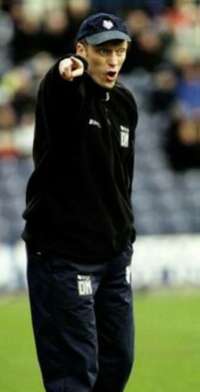 David Moyes - off to Everton
Today we can now confirm that to be the case as he becomes the tenth longest serving manager in the Premiership and Football League. Current tenth place David Moyes has given up his position and left Preston North End to join Everton on a four year contract and that allows Stan to step up into the top ten.
Moyes made a badly disguised admission that he saw his future away from Deepdale in a TV interview a couple of weeks ago and has clearly jumped at the chance of joining Everton this week. The sale of Jon Macken against his wishes looks as though it was the final straw for him. He made it clear to the North End board that he wanted to go and they have had to watch as the Haunted One emptied his desk and set off for Merseyside.
Given Everton's perilous position he could well find himself back in the Nationwide League sooner than he thought but he has joined a club that at times has been amongst the biggest in the country. There is no news as yet from Deepdale who will take charge, in fact Preston have not confirmed his departure yet. Everton though have confirmed he has signed a four year deal with them.
So three months short of four years and Stan is in the top ten managers and that shows just how often clubs do change their managers. Preston have today become the 36th club to no longer have the manager they started this season with.
Stan though is still some 15 years behind the longest serving Dario Gradi, the top ten is now,
Dario Gradi (Crewe Alexandra)
Sir Alex Ferguson (Manchester United)
Alan Curbishley (Charlton Athletic)
George Burley (Ipswich Town)
Peter Reid (Sunderland)
Barry Fry (Peterborough United)
Arsene Wenger (Arsenal)
Brian Laws (Scunthorpe United)
Ronnie Moore (Rotherham United)
Stan Ternent (Burnley)