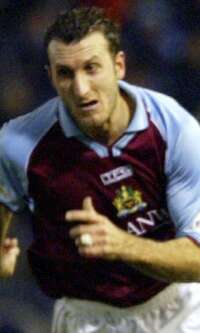 Glen Little - back from suspension
On the positive side Glen Little returns after serving a one match suspension and also added to the squad is new signing Guinea international centre half Driss Diallo who goes straight into the squad.
It is happen as well with Ian Cox suspended as well as Dean West and Gareth Taylor whilst Paul Weller, in such good form in the last two away games, is now out with a calf injury.
Steve Davis will remain on the sidelines with injury for some time yet and Lee Briscoe is not ready to return whilst Brad Maylett it has finally been revealed this week is again out with an achilles injury.
Apparently Andy Payton has recovered from his hernia operation and could well be in the squad. For a player who is close to the second anniversary of his last first team start for the Clarets he is hardly likely to be considered for a place in the starting eleven.
Last week at Grimsby, and a first time for the Clarets, none of the squad numbers 1 to 11 were on the pitch at the start of the game. This will probably not be the case tomorrow with Cook, Armstrong and Diallo all looking for a starting place.
Stan I think will keep changes to a minimum and I do expect the new signing to start. The starting eleven will probably look something like: Marlon Beresford, Mark McGregor, Driss Diallo, Arthur Gnohere, Graham Branch, Glen Little, Tony Grant, Paul Cook, Alan Moore, Ian Moore, Robbie Blake.
Nik Michopoulos, Gordon Armstrong and Dimitri Papadopoulos should be on the subs bench along with Andy Payton if he is declared fit. The one or two bench places (depending on Payts) will go to the youngsters from Mark Rasmussen, Matthew O'Neill, Earl Davis and Andrew Waine.
Ipswich will have to make changes and one player definitely out is Jamie Clapham who has been an ever present this season. Yesterday he completed his move to Birmingham City, a vital transfer with the Suffolk club yet another with financial difficulties. That leaves Joe Royle needing a replacement for Clapham in midfield.
John McGreal is out injured and they will also be without former Sunderland right-back Chris Makin who is serving a one match suspension. The game will probably also come too soon for Martijn Reuser who is returning from injury.
Good news for the Tractor Boys though is that Jim Magilton, Tommy Miller and Thomas Gaardsoe have all been passed fit having missed out on the FA Cup win against Morecambe last Saturday.
Matt Richards came into the team last week and played well and he is expected to retain his position in the squad as will Nabil Abidallah who played his first game last week for almost two years.
Ipswich boss Joe Royle gave no clues as to what his starting line up may be but did say he had a team in his mind after working on a few things. He is though expecting a tough game and said,
"I have seen Burnley play a lot over the past year as they are only 30 minutes or so from my house. Their manager, Stan Ternent, is a good friend of mine and he has done a great job up there with a mixture of cheap buys and senior free transfers.
"They can play a bit and got a good result at Portman Road just before I arrived here so we are aware of the challenge they will provide."
Click
HERE
for more on Ipswich and a look back at past results and a former player of both clubs.