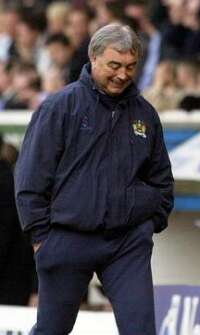 Stan after yesterday's presentation
For a club that was seemingly changing managers with the weather as they all seemed to leave muttering under their breath about Frank Teasdale a manager lasting this long seemed out of the question.
But 200 game it is with 180 of those in the league, 9 in the FA Cup, 9 in the Worthington Cup and two in the Auto Windscreens Trophy. In total 83 of the games have been won, 54 drawn and 63 lost. We have scored 265 goals and conceded two more with 267.
Stan started with a 2-1 win at home against Bristol Rovers back in August 1998 and it comes as no surprise that Andy Payton scored both goals. Andy has scored of those goals, many more than any other player.
The first draw and defeat soon followed, in fact within a week as we drew a Worthington Cup tie at Bury before losing 1-0 at Chesterfield in the league.
The cup matches do somewhat spoil the record. In the league we have won 78, drawn 49 and lost 53 of the 180 games but the cup record shows just 5 won, 5 drawn and 10 lost. None of the draws led to wins either. The draw at Bury was followed by a defeat at home and last season two came in the Worthington Cup tie against Palace that we lost on away goals and two came in the FA Cup 3rd round tie against Scunthorpe that we went on to lose on penalties.
He is the first to reach this total since Jimmy Mullen and, apart from Brian Miller in two spells, only the second since Jimmy Adamson. He became the tenth longest serving manager in the four divisions when David Moyes quite Preston for Everton and I suspect by the time Stan does call it a day he will be a long way past this 200.