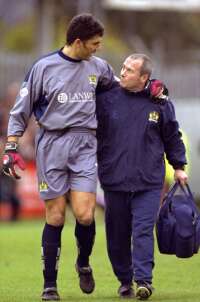 Nik Michopoulos - out with a torn calf muscle
Nik tore a hamstring in the FA Cup tie and had to be replaced after just 19 minutes by reserve team keeper Luigi Cennamo who was making his first team debut. News filtered through at half time that Nik's injury was bad and a six week absence was mentioned. Luigi Cennamo had a disastrous start, his first two touches were to pick the ball out of the net, and it would be unfair on him to carry the responsibility of a hopeful promotion push over the next six weeks or so.
Should it be six weeks then that would mean Michopoulos missing eleven of the remaining seventeen league games and an experienced keeper is vitally important for us.
So who will it be? Firstly we had the usual names bandied around, those of Marlon Beresford and Andy Marriott. I wonder why those two names appeared first? Then we moved on quickly and names such as Liverpool's Pegguy Arphexad and Tim Flowers at Leicester were thrown into the hat.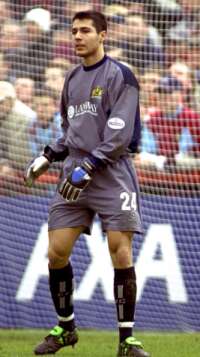 Luigi Cennamo - sub keeper at Cheltenham
A look down at West Ham shows that they have more goalkeepers than they know what to do with and Shaka Hislop and Craig Forrest were mentioned. One name quickly thrown out by most was Alan Kelly but I happen to think he is a very good goalkeeper.
Some keepers are already out on loan such as Leicester's Simon Royce and Brighton and Ben Roberts of Charlton is currently at Reading.
But today a new name has been added to the list, Fulham's American international Marcus Hahnemann. The 6ft 3ins keeper joined Fulham in the summer of 1999 from Colorado Rapids for £80,000 but even before the arrival of Edwin van der Sar last summer failed to establish himself at Craven Cottage.
He has played just two league games for them against Sheffield Wednesday and Grimsby in April and May last year covering for Maik Taylor. This season though he has found himself more league action with a couple of loan deals. He went to 3rd Division Rochdale in October and played in five league and two LDV Trophy games. In the league games he kept four clean sheets, the only player to score past him was Cheltenham's Jamie Victory who scored twice in a 2-2 draw at Spotland.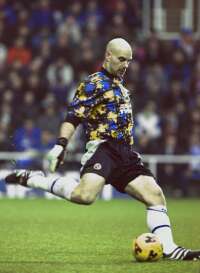 Latest target - Fulham's Marcus Hahnemann
He joined Reading for a month in the week before Christmas and made six league appearances for them. Again he did well and kept four clean sheets in those six games. Simon Haworth scored against him in a 1-1 draw against Wigan, a game that Paul Cook played in, and Cardiff's Rob Earnshaw scored twice in a 2-2 draw.
Reading wanted to extend the loan but Fulham said it was not in their best interests and turned down the offer. Having played in the 3rd and the 2nd it is not known whether they would be keen on releasing the 28 year old from Seattle for a month.
It looks certain that Stan will take a keeper on loan so we can now add Hahnemann to the list of possibles.