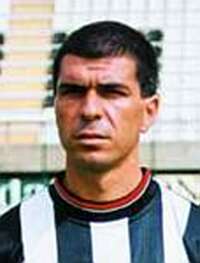 Victor Manuel Torres Mestre
At left back in the Burnley team tonight is Madrid born 31 year-old Victor Manuel Torres Mestre who is currently with Portuguese club Vazim. Although he started with Real Madrid he made no impact at the Santiago Bernabeu Stadium but finally won a place in La Liga with Espanyol in the 1996/97 season.
After two seasons there he had a season in France with Bordeaux before returning to Spain and joining Alaves. He has since been with Vazim in Portugal but is thought to be looking for a move to England.
He lines up in a side with a mix of experience and youth as the Clarets look to push ever nearer the top of the table. Three players, Nik Michopoulos, Mitchell Thomas and Andy Payton, all play as they continue their returns from injury. Robbie Blake gets another run out but again there is no sign of Dimitri Papadopoulos who came close to a first team return on Saturday.
The full team is Nik Michopoulos, Mark McGregor, Victor Manuel Torres Mestre, Earl Davis, Mitchell Thomas, Joel Pilkington, Brad Maylett, Andrew Waine, Andy Payton, Robbie Blake, Matthew O'Neill. Subs: Tony Ellis, Luigi Cennamo, Anthony Shandran, Andrew Leeson, Mark Rasmussen.
West Brom won't be fielding a very experienced side but former Blackpool player James Quinn will be in the line up as he keeps himself in the shop window looking for a move.
West Brom will select from: Daniel Crane, Joshua Gowling, Ross Adams, Tamika Mkandawire, Warren Cummings, Matthew Turner, Matthew Collins, Mark Briggs, Dyer, Daniel Carey-Bertram, James Quinn, Midworth, Elliott Morris, Richard Adams, Paul Oakey, Cudworth.