The previous week had ended with the sacking of Derek McInnes at Bristol City, and this week got underway with his replacement quickly installed. Sean O'Driscoll, sacked by Nottingham Forest on Boxing Day, was his replacement.
It was a shock when O'Driscoll got the boot on the banks of the Trent but it's not stopped there at Forest. This week three more followed him and, it is reported, new manager Alex McLeish had nothing to do with it.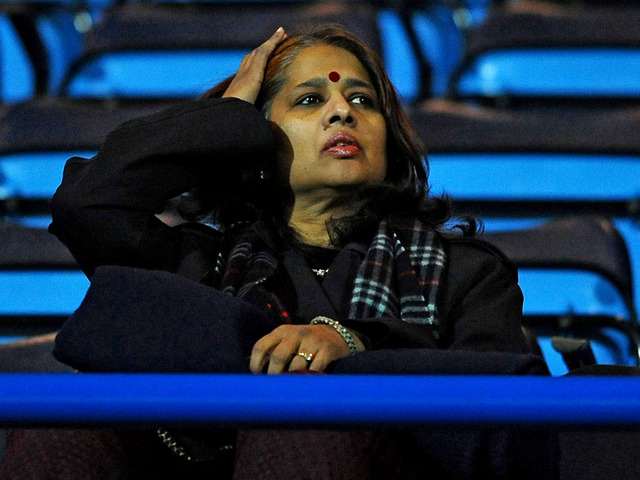 Welcome to Mrs Desai
Out went long serving chief executive Mark Arthur. He'd been there for fourteen years since walking across the road from the county cricket ground. He's apparently on gardening leave along with head of recruitment Keith Burt.
Burt was in the middle of a scouts' meeting when his wife phoned him to tell him of a recorded delivery from the club. She read the contents to him and he was given the news in front of his colleagues.
Last season Frank Clark was the chairman. He'd played in their European Cup winning teams and managed the club and was given an ambassadorial role when the Kuwaiti Al Hasawi family took control last summer. That didn't last long and he's been sacked too.
Meanwhile they are no longer playing their Camp goalkeeper. He's now surplus to requirements and young 'keeper Karl Darlow is currently in the first team. Other than that, it's been a quiet week at the City Ground.
It's not the only place that's had fun and games. On a weekend when many games were threatened by the snow, the Indian owners of Blackburn turned up at Ewood. For matriarch Mrs Desai it is only a second visit and I'm not sure she'll be coming again in the near future.
This wonderful family, and their incredibly talented global advisor Shebby Singh, were treated shebbily by the supporters as they arrived. There were uncalled for chants of protest and one badly behaved home supporter threw a snowball at shabby Shebby and hit him in the face.
Meanwhile bumbling Derek Shaw was full of praise for the owners and believes they are going to bring them success.
If we weren't happy with our coverage on the Football League Show last night then the feature from Ewood certainly helped.
It was their first game with new manager Michael Appleton. He thinks they are a massive club because they once bought the Premier League title. He didn't come over very well although well done to him for losing his first game in charge.
He's just arrived from Blackpool after a long term relationship there of around eight weeks. Their chairman Karl Oyston was hardly happy about things and said: "It's unfortunate we've become embroiled in the disaster shipwreck Blackburn have become and embroiled in their antics. It's a shame the way they are being run has destabilised us."
Not bad for a man whose dad used to fall backwards into swimming pools to try and sell houses and had a three year relationship with mail bags.
Blackpool are still without a manager which means former Claret Steve Thompson, who wants the job and seems to be the only person who does, remains in caretaker charge.
All the Championship games were played in the end, starting with Leicester's 1-0 home win against Middlesbrough. Whoever won would go second on Friday night and it was Leicester although there must have been some real concern at the number of empty seats at the King Power.
They have an average attendance of over 22,000 this season but the weather and the television coverage reduced that to just 8,585.
They are second though, but sit a staggering ten points behind leaders Cardiff. I'm not very good when it comes to predicting outcomes of leagues but I do reckon the team from the Welsh capital must have a decent chance of going up.
We've gone to seventh but will drop to eighth on Tuesday if Brighton get anything at Ewood. Do we really want to see something other than a home defeat for the Venky's?
The weekend results and stats are below along with the week's fixtures.
The Results
Friday 18th January

Leicester City 1 Middlesbrough 0

Saturday 19th January

Birmingham City 2 Brighton & Hove Albion 2

Leeds United 1 Bristol City 0

Blackburn Rovers 1 Charlton Athletic 2

Millwall 0 Burnley 2

Blackpool 1 Cardiff City 2

Peterborough United 1 Hull City 1

Crystal Palace 0 Bolton Wanderers 0

Sheffield Wednesday 0 Wolverhampton Wanderers 0

Derby County 1 Nottingham Forest 1

Watford 4 Huddersfield Town 0

Ipswich Town 1 Barnsley 1
The Stats

Biggest Win

Watford 4-0 v Huddersfieldt Town (home)

Total Goals Scored

24 (13 home - 11 away)

Player Scoring Most Goals

2 - Matej Vydra (Watford)

Highest Attendance

33,010 - Derby County v Nottingham Forest

Lowest Attendance

6,214 - Peterborough United v Hull City

Total Yellow Cards

30

Total Red Cards

0

Most Cards in a Game

Birmingham City v Brighton & Hove Albion (5Y) Ref: Phil Dowd
Leading Goalscorers (League Only)

22

Glenn Murray (Crystal Palace) - includes 7 penalties

20

Charlie Austin (Burnley) - includes 3 penalties

17

Jordan Rhodes (Blackburn Rovers) - includes 2 penalties, 2 with Huddersfield Town

16

Matej Vydra (Watford) - includes 2 penalties
Chris Wood (Leicester City) - 11 with Millwall

15

Luciano Becchio (Leeds United) - includes 4 penalties

13

Tom Ince (Blackpool) - includes 3 penalties
David Nugent (Leicester City) - includes 1 penalty

12

Marlon King (Birmingham City) - includes 3 penalties

11

Troy Deeney (Watford) - includes 2 penalties
Craig Mackail-Smith (Brighton & Hove Albion) - includes 2 penalties

10

DJ Campbell (Ipswich Town)
Scott McDonald (Middlesbrough)

9

Sam Baldock (Bristol City) - includes 4 penalties
Sylvan Ebanks-Blake (Wolverhampton Wanderers) - includes 2 penalties
Billy Sharp (Nottingham Forest) - includes 2 penalties

8

Sone Aluko (Hull City)
Craig Davies (Bolton Wanderers) - includes 1 penalty, 8 with Barnsley
Steven Davies (Bristol City) - includes 2 penalties
Lukas Jutkiewicz (Middlesbrough)
Theo Robinson (Derby County)
Hat Tricks
Date

Player & Game

01/09/12

3: Pete Whittingham - CARDIFF CITY v Wolverhampton Wanderers

15/09/12

3: Charlie Austin - BURNLEY v Peterborough United

22/09/12

3: Glenn Murray - CRYSTAL PALACE v Cardiff City

22/09/12

4: Craig Davies - Birmingham City v BARNSLEY

23/09/12

3: David Nugent - LEICESTER CITY v Hull City

29/09/12

3: Emile Sinclair - Hull City v PETERBOROUGH UNITED

02/10/12

3: Charlie Austin - BURNLEY v Sheffield Wednesday

23/10/12

3: Marlon King - Millwall v BIRMINGHAM CITY

06/11/12

3: Glenn Murray - CRYSTAL PALACE v Ipswich Town

17/11/12

3: Jordan Rhodes - Peterborough United v BLACKBURN ROVERS

12/01/13

3: Chris Wood - Bristol City v LEICESTER CITY
Disciplinary Record (League and Cup)

Club

Y

R

Y

R

Club

Y

R

Y

R

League

Total

League

Total

Barnsley

38

1

43

2

Huddersfield Town

51

4

56

4

Birmingham City

42

3

46

3

Hull City

32

1

34

2

Blackburn Rovers

36

0

38

0

Ipswich Town

35

0

37

0

Blackpool

36

0

38

0

Leeds United

46

2

54

2

Bolton Wanderers

52

1

55

1

Leicester City

31

1

31

1

Brighton & Hove Albion

38

1

42

1

Middlesbrough

36

0

42

0

Bristol City

37

0

40

0

Millwall

49

2

52

2

Burnley

51

1

59

2

Nottingham Forest

46

4

46

5

Cardiff City

48

2

51

2

Peterborough United

43

1

46

1

Charlton Athletic

42

1

43

2

Sheffield Wednesday

47

1

53

1

Crystal Palace

39

2

50

2

Watford

48

4

51

4

Derby County

35

1

36

1

Wolverhampton Wanderers

32

1

36

1
Highest and Lowest Attendances

Highest

Lowest

Att

Fixture

Att

Fixture

33,010

Derby County v Nottingham Forest (19/01)

5,435

Peterborough United v Bristol City (18/09)

28,707

Nottingham Forest v Derby County (30/09)

5,633

Peterborough United v Blackpool (01/12)

28,595

Wolverhampton W v Ipswich Town (29/12)

5,997

Peterborough Utd v Blackburn Rovers (17/11)

28,582

Sheffield Wednesday v Leeds United (19/10)

6,188

Peterborough United v Millwall (21/08)

28,229

Middlesbrough v Sheffield Wednesday (09/11)

6,214

Peterborough United v Hull City (19/01)

27,437

Derby County v Sheffield Wednesday (18/08)

6,348

Peterborough Utd v Huddersfield Town(23/10)

26,727

Brighton & Hove Albion v Watford (29/12)

6,600

Peterborough Utd v Bolton Wand (23/12)

26,684

Brighton & HA v Nottingham Forest (15/12)

6,612

Peterborough Utd v Middlesbrough (08/12)

26,670

Nottingham Forest v Leeds United (26/12)

7,339

Peterborough Utd v Barnsley (01/01)

26,598

Sheffield Wed v Bolton Wanderers (22/09)

8,088

Barnsley v Bristol City (01/09)
The Next Fixtures
Tuesday 22nd January

Blackburn Rovers v Brighton & Hove Albion

Saturday 26th January

Bristol City v Ipswich Town

Huddersfield Town v Crystal Palace

Burnley v Birmingham City

Nottingham Forest v Watford

Charlton Athletic v Sheffield Wednesday

Wolverhampton Wanderers v Blackpool