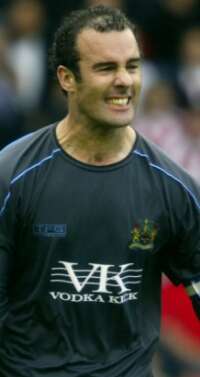 Graham Branch - plays for the reserves at Huddersfield
And once again Stan has decided to give his first team substitutes a game and all five who took the bench seats on Saturday will be in the starting line up at Huddersfield. That means a game for skipper Graham Branch who will presumably captain the team alongside Dean West and Mo Camara.
It will also mean a first start for Alan Moore since August as he continues to get himself fit following a knee operation. There's also a return for Ryan Townsend, the youth team captain, who missed their last match of 2003 with suspension following his harsh red card in the LFA Youth Cup win over Preston.
The team also includes three trialists in goalkeeper Greg Parker and forwards John Harrison and Alan Hunter although the club have given no indication as to where any of these three players are from.
The Burnley team is: Greg Parker, Dean West, Ryan Townsend, Graham Branch, Mo Camara, Matt O'Neill, Joe Booth, Joel Pilkington, Alan Moore, Alan Hunter, John Harrison. Subs: Marc Pugh, Ross Preston, Tom Ince, Darrel Avery, Rhys Carpenter.
Huddersfield include a former Burnley target in their side in Whalley born Chris Holland alongside other familiar names such as Martyn Booty, John Thorrington and former Blackpool defender Ian Hughes. Also in the home side are Tyrone Thompson on loan from Sheffield United and Preston striker Fola Onibuji (also on loan) who played against us in our first reserve game of the season at Deepdale and had a very poor game.
Huddersfield will field the only Burnley born player in the match in Adnan Ahmed who made his first team debut for the Terriers as a substitute against Rochdale in September last year.
The Huddersfield team is: Jacob Giles, Marty Booty, David Mirfin, Ian Hughes, Aaron Hardy, Tyrone Thompson, Dwayne Mattis, Chris Holland, Adnan Ahmed, John Thorrington, Fola Onibuji.
All the Huddersfield subs will be chosen at the last minute and will come from the club's academy.