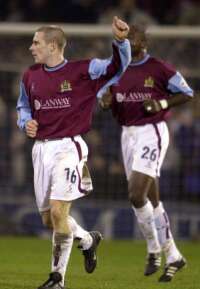 Ian Moore celebrates his hat-trick goal
It all seemed fun when we were drawn out against the lowest placed club left in the competition and at home as well but as the day drew nearer the possibility of an upset and the embarrassment that goes with it started to creep in. Yes we were playing Canvey Island but this is the FA Cup and it is a competition that has always thrown up shocks and don't we know it.
It was almost like the old days at Turf Moor today when turning into Harry Potts Way I saw the missionaries carrying their banners suggesting a return for the Lord and for sinners to repent. I commented that we were finally a big club again with their return, I haven't seen them at the Turf for years. I was accused of being a sinner by one of them when I suggested to him that the Lord had died just over twenty years ago, although I'm sure I might have committed worse sins than that.
It was all change before the game as the arrival of the teams was greeted with Prokofiev's Dance of the Nights from Romeo and Juliet – very Stadium of Light. But were we Ready to Go?
I think it is fair to say that we haven't played as well as we can today and certainly in the first 20 minutes or so our visitors gave us plenty to think about with one shot on goal almost giving them a lead. I expected them to start brightly, after all this is a side that must be oozing confidence after winning 27 and drawing 1 of their last 28 games. It was a big day for them, their first ever time in the 3rd round.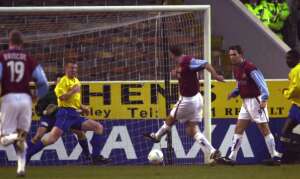 Glen Little gives the Clarets the lead
I always thought we might need an early goal to settle us down but it didn't come and although Canvey Island never really looked likely to take hold of the game we could have gone behind and made it harder for ourselves. We didn't go behind though and in fact with just 22 minutes on the clock we took the lead through Glen Little. Somehow you just thought that would be it, that after a good start the goal against them would finish them and to be honest they had by then had their best spell.
Just after that came the one unsavoury incident of the game, a foul by Steve Parmenter on Dean West that earned him a yellow card. This is the second week running a bad, bad foul has been punished lightly by a referee. Last week it was Mettomo and this week Parmenter should without any question have been shown a red card by referee Pugh.
The rest of the first half was pretty mediocre stuff and we were probably just about worth our one goal lead at the interval when Ian Moore scored with a header and sent us in two up. Surely that would be the end for Canvey Island.
Half time was pretty funny really. With Danny Rue-Bin now thankfully departed to Bolton, maybe more on that next week, the microphone was handed back to Mr. Here at Turf Moor. He's lost none of his qualities and was able to tell us that we were playing in the FA Cup sponsored FA Cup here at Turf Moor.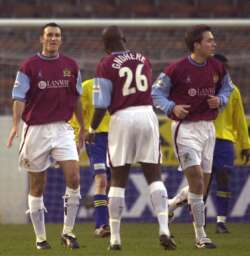 Arthur celebrates Glen after he scored the first goal
The second goal really had made a difference and we looked a lot sharper at the start of the second half and could on more than one occasion have added a third goal. We then seemed to lose our way a bit and also lost Glen Little again with what looked like another hamstring injury. Glen received warm applause but that was nothing to the reception given to his replacement Paul Cook back in the squad for the first time since going to Wigan on loan. Both he and Andy Payton had been given good applause before the game when they were announced as subs.
Suddenly 20 minutes in we were rocked on our heels as Canvey pulled one back. The stands went quiet and the worry of an upset returned to the Clarets supporters. We needn't have worried because the goal, rather than getting Canvey Island back into the game, actually lifted us. As our visitors tired we took complete control and to be honest we could have had a bag full in the last twenty minutes or so.
Paul Weller and Dimitri Papadopoulos (our third sub) both missed good chances and Alan Moore was amazingly flagged offside when clean through. More goals did come though and they came from Ian Moore. He added a second to restore the two goal lead and then with just six minutes left completed his first Burnley hat-trick. All in front of his dad too who was spotted in the bookies before the game, I just wonder whether he had a bet on his son.
In the end then it was 4-1 and the scoreline makes it look as though it was easy. It wasn't though as Canvey Island did themselves proud. In the second half I thought they looked a side four divisions below us and it only got worse for them when they tired but they had made it very difficult for us in the first half.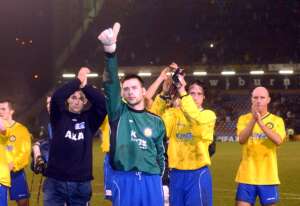 The Canvey Island players applaud the fans
They were a credit to themselves and to everyone involved at their club and to non-league football and the Ryman League. They tried at all times to play football, one bad foul being the exception, and never resorted to trying to kick their way through the tie.
A great credit on the field but sadly not too impressive in the stand. A few balloons and ticker tape don't make up good support and sadly they didn't seem to get behind their side too well but were keener to concentrate on slagging off the Clarets. I thought at times they let their club and players down.
I spoke to a number of Canvey Island fans before the game and they were all looking forward to a great game although they were all realistic about the likely outcome. That wasn't reflected by the poor support from the Cricket Field Stand.
Bally was given the sponsors Man of the Match and who am I to disagree? I'm a big fan of Bally's and after a poor spell that saw him dropped I think he has come back into the side and has been as good as at any time in his time at Turf Moor.
He was excellent this afternoon but sorry Bally you are not getting my award today, I'm going for the hat-trick hero Ian Moore who I thought was superb up front apart from his goals. It was a close run thing though.
Finally to the referee David Pugh. I just wonder if this referee actually likes the game of football because every time I have seen him in charge he has done everything he can to stop the game being played.
He was just the same this afternoon, nit picking over nothings just so he could stop the game. When the need to make a decision came, when the one bad foul of the game was committed, Pugh got it wrong and waved just a yellow card. Maybe I will see you referee one day and think you did OK, somehow though I doubt that.
So it's the 4th round draw tomorrow and ball number 15 will be ours. It's just two years since we played in this round but 19 years was the time before and the last time we won a 4th round tie. That was a home game against Swindon Town and was won 3-1 with two goals from Billy Hamilton and one from Trevor Steven.
That was the object of the exercise – to reach round four – and we have done it. No matter how well we may or may not have played we are in the last 32 of the competition. Now we just wait for that draw tomorrow.
The teams today were,
Burnley: Nik Michopoulos, Dean West, Ian Cox, Arthur Gnohere, Lee Briscoe, Glen Little (Paul Cook 57), Kevin Ball, Tony Grant, Alan Moore (Dimitri Papadopoulos 78), Ian Moore, Gareth Taylor (Paul Weller 45). Subs not used: Luigi Cennamo, Andy Payton.
Canvey Island: Ashley Harrison, Micky Bennett, Chris Duffy, Ben Chenery, Steve Ward, Spencer Knight, John Kennedy, Mark Stimson, Lee Boylan, Adam Miller, Steve Parmenter (Paul Cobb 60). Subs not used: Adam Tanner, Johnson, Wayne Vaughan, Ian Thompson.
Referee: D Pugh (Wirral).