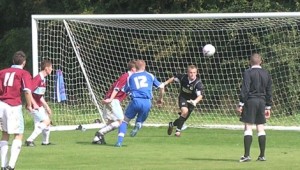 The youth team in action at Gawthorpe earlier in the season

During my time as a faithful Clarets supporter our youth system has not produced the volume of young talent it so consistently delivered when we dominated football's upper echelons. In fact, I can count on one hand the players that have made any meaningful impression on the first team in the last fifteen years.



Recently, however, we have seen something of a revelation in the form of our youth team. Players like Chris McCann, Marc Pugh and Kyle Lafferty have all featured in the first team squad this season. The youth team is flying high in the league and is awash with talent which, in the not too distant future, will be giving Steve Cotterill a major dilemma when it comes to his first team selection.



At the helm of the youth team we have two first-class characters - the manager, Terry Pashley and Vince Overson, Head of youth development. Vince describes Pashley as "One of the best youth team coaches in the country".



In light of all this the gauntlet is thrown down to you regular Burnley folks:



"YOUR team needs YOU!"



Burnley Football Club isn't just the sixteen players that walk out every Saturday, it is every person connected with Burnley the town. You have an opportunity to see Turf Moor's most likely, a team that are currently setting the league in which they play ablaze, a team which rarely plays at Turf Moor, a squad of players that have a fantastic chance of winning the competition!



Help put the pride back in to the Claret & Blue shirt that has been donned by so many fine men in the past. Let's see a classic 2006 vintage of Burnley footballers. I for one, will be going down on Wednesday, I intend to come back with no voice left.



I hope you intend on joining me!