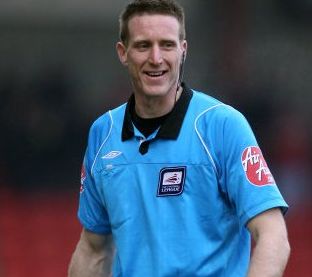 Sheldrake, a schoolteacher at Teddington School in Middlesex, will be refereeing Burnley for the second time having refereed our last away game of last season against Wolves at Molineux.
He had a poor game at Molineux and worryingly appeared to favour the home team at every opportunity, and I still think the two yellow cards that saw Michael Duff sent off were very harsh.
This season is Sheldrake's fifth as a Football League referee since taking charge of a game between Cheltenham and Grimsby in August 2009, and during his four years so far has increased the number of Championship games he's refereed each season, taking charge of eight in total last season.
He just reached three figures in yellow cards last season, the stoppage time booking of Lee Grant at Molineux taking his total to 101 in 30 games. Michael Duff was just the third player he sent off.
He's going to have to have some quiet games this season to get down to an average anything like just over three per game. He kicked off the season on the opening day at Stevenage who were beaten 4-3 by Oldham. There were a staggering eleven yellow cards in that game.
In two games in Bristol since (one with each club) he's added another seven taking his total of yellow card to 18 in three games. Seven of the yellow cards at Stevenage were handed to the home team but he's balanced things up since and there have been nine each to home and away players.
The assistant referees are Darren Blunden and Paul Kelly (both Kent). The fourth official is Football League referee Graham Horwood (Bedfordshire) who is still to referee a Burnley game.
Previous Burnley Games
Season

Opponents

V

Res

Y

R

Burnley Players Carded

2012/13

WOLVES

a

2-1

5

1

n

Duff, Marney, Grant

n

Duff