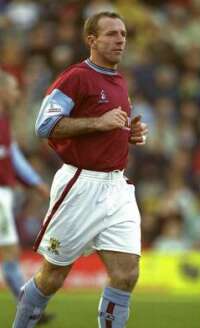 Bally - Clarets best player by a mile
Sheffield United is not a club we would ever choose to visit when in need of a good result. It is 18 seasons since we even picked up a point there, no Burnley player has scored a league goal there since Peter Noble in a 2-1 defeat 24 seasons ago and it is now 28 seasons since we won a league game there. A year ago I described the ground as a graveyard and that's exactly what it was today.
Not as though the surroundings had anything to do with it this time, we lost simply because we were dreadful, totally outplayed by a very average First Division team. Having said that though they have been more successful in recent games than ourselves. We have won just four of our last seventeen games and in that period, since our home win against Stockport, we are 18th in this division.
The great start is going to see us into the play offs but in this period we have 19 points from 17 games and the only teams with less points in this time are Rotherham, Portsmouth and Bradford with 18, Walsall with 17, Crewe with 14 and Stockport with 8.
Today's game was never going to improve on that, we were second best and a poor second best for most of the game. I was placed very close to the back of the stand suffering from the lack of oxygen due to the high altitude and was grateful to those sat directly behind me for explaining what was going right and what was going wrong. It was simple really, everything that was good was down to the brilliance of Gascoigne and everything that was bad was due to the donkey Taylor. Even when Gazza's back pass went horribly wrong Taylor was to blame.
He is not the greatest striker we have ever had but the abuse he takes from the stands is downright dreadful, it is if he is the only one to blame for anything that goes wrong, that is not the case.
I waxed lyrical about Gazza on Wednesday, today he was awful. He put in a shot as a free kick was touched to him that was deflected just wide and that, apart from a couple of passes, was his entire positive contribution. He wasn't the only one to play badly but I certainly don't think the way we lined up helped at all.
Gareth Taylor came back in for the ill Glen Little and we opted to go for three up front in a line up that was clearly lacking any width. In a strange move though three players were moved from Wednesday. Lee Briscoe went from full back to midfield to replace Kevin Ball who moved to the centre of defence to replace Mitchell Thomas who moved to full back to replace Lee Briscoe.
It all switched around a bit when Ian Cox went off injured to be replaced by Alan Moore but by then the pattern of the game had been set. It was that Sheffield United would have most of the possession, would do most of the attacking and we would not be at the races.
By half time we looked a complete shambles but amazingly went in only 1-0 down. Make no mistake it could and most certainly should have been a three or four goal deficit at least but for some wayward finishing by the Blades. It was on a par with the performance at Walsall it was so bad and we didn't look a side looking to win a play off place.
We all predicted that Ian Moore would be taken off at half time and would be replaced by Paul Weller. We had not singled out Mooro but it was obvious that the system was wrong. It duly happened but before we could assess the effect of the change we were two down and in reality the game was over.
The second half showing was not nearly as bad as the first and we could have even got back into the game but the chances went begging. Gareth Taylor came closest forcing Tracey into a good save and then hitting the bar with a header, probably on both occasions due to the brilliance of Gascoigne but by then those behind me had retired to the bar.
In fact Payts came on for Gazza and we certainly improved after that and most of the play was towards their goal. Had we pulled one back then who knows but had we pulled off an unlikely draw it would have been daylight robbery. As it was they broke and got a third and that gave the match a more realistic scoreline.
We have had the odd couple of good results here and there but this was another very poor performance of the kind we have seen too many of recently. The form over a long period now is poor and points are still needed to get into the play offs. We will need to be thankful for our early season form coupled with the run of six consecutive wins if and when we get there.
More performances like this and we could be the ones to drop out of the top six and miss out altogether. We need to find some form from somewhere and fast.
Usually in games like this it is very difficult to find a man of the match but not today. Most players were simply not good enough on the day, some did OK but Kevin Ball at the back was magnificent. He kept Sheffield United at bay almost single handedly at times although of course it was all due to Gascoigne's brilliance.
Ball shouldn't be playing he is too old. I hear that so many times at games. I'm just bloody thankful Ball was playing today, without him heaven knows what the scoreline would have been.
The referee Graham Laws managed to make a mess out of nothing and displayed all the inconsistencies of refereeing all on his own. He decided that a deliberate handball by a forward in the penalty box was not a yellow card when Peschisolido did it but then when the same player did it again shortly afterwards he did yellow card him. They were both clear yellow card offences, both were just downright cheating by Mr. Karren Brady and he should have been sent off the field of play.
Cheating and Sheffield United, what am I talking about?
It's seven days to the next game against stuttering Wolves. We will have to play so much better than we did today or the pressure for points will be on us even more.
The teams today were,
Sheffield United: Simon Tracey, Gus Uhlenbeek, Robert Page, Keith Curle, Shane Nicholson, Peter Ndlovu, Jean-Phillipe Javary (Grant Smith 88), Phil Jagielka, Michael Tongue (Nick Montgomery 61), Larent D'Jaffo, Paul Peschisolido (Bobby Ford 79). Subs not used: Wilko de Vogt, Lee Sandford.
Burnley: Marlon Beresford, Dean West, Kevin Ball, Ian Cox (Alan Moore 15), Mitchell Thomas, Paul Gascoigne (Andy Payton 70), Tony Grant, Lee Briscoe, Ian Moore (Paul Weller 45), Gareth Taylor, David Johnson. Subs not used: Nik Michopoulos, Robbie Blake.
Referee: Graham Laws (Whitley Bay).