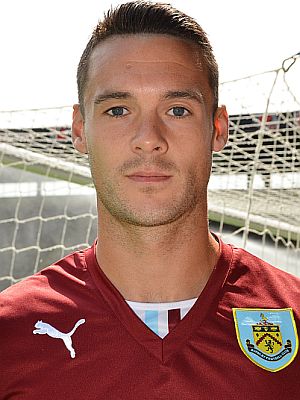 Both now have 107 points but both need to watch out as Danny Ings, surprisingly some way behind them for much of the season so far, is catching up quickly after a good start to the year and is now only 20 points behind.
Ings took first place in both the man of the match vote and the player ratings for the Huddersfield game and in the following games at Southampton and Yeovil was second in both on both occasions and that's given him 22 points so far in January, and that has more than halved the deficit between him and top place.
Vokes was the winner at Southampton and Dean Marney won both in the 2-1 win at Yeovil, and this despite one poster on the message board describing his performance as: "Industrious, but for me nothing more. Not convinced that Jones and Marney will be good enough to see us into the promotion slot."
With the site and message board now more stable, normal service will be resumed for future games and the vote for the Sheffield Wednesday home game will be available on Saturday evening, approximately one hour after the final whistle.
Below are the results of the Huddersfield, Southampton and Yeovil game followed by the current Clarets Mad Player of the Year Table.
HUDDERSFIELD (HOME)
MAN OF THE MATCH
33.0% - Danny Ings
23.9% - Kieran Trippier
22.0% - Scott Arfield
4.6% - Dean Marney
3.7% - Ben Mee
2.8% - David Jones, Jason Shackell & Sam Vokes
1.8% - Michael Duff & Keith Treacy
0.9% - Tom Heaton
PLAYER RATINGS
8.73 - Danny Ings
8.09 - Kieran Trippier
7.45 - Scott Arfield
7.36 - David Jones, Dean Marney & Jason Shackell
7.27 - Sam Vokes
6.95 - Ben Mee
6.91 - Tom Heaton
6.64 - Keith Treacy
6.45 - Michael Duff
SOUTHAMPTON (AWAY)
MAN OF THE MATCH
36.6% - Sam Vokes
30.1% - Danny Ings
7.5% - Kevin Long
6.5% - David Jones
5.4% - Kieran Trippier
3.2% - Scott Arfield & Dean Marney
2.2% - Jason Shackell & Junior Stanislas
1.1% - Tom Heaton, Danny Lafferty & Keith Treacy
PLAYER RATINGS
8.25 - Sam Vokes
7.88 - Danny Ings
6.75 - Kevin Long
6.50 - David Jones & Danny Lafferty
6.25 - Tom Heaton & Kieran Trippier
6.13 - Dean Marney
6.00 - Jason Shackell
5.88 - Junior Stanislas
5.50 - Keith Treacy
5.00 - Scott Arfield
YEOVIL (AWAY)
MAN OF THE MATCH
40.8% - Dean Marney
21.5% - Danny Ings
9.6% - Michael Duff
6.1% - Danny Lafferty
5.7% - Sam Vokes
4.4% - Keith Treacy & Kieran Trippier
3.5% - David Jones
1.3% - Scott Arfield, Tom Heaton & Jason Shackell
PLAYER RATINGS
8.11 - Dean Marney
8.00 - Danny Ings
7.56 - Sam Vokes
7.44 - Danny Lafferty
7.28 - Kieran Trippier
7.17 - David Jones
6.94 - Michael Duff
6.83 - Keith Treacy
6.78 - Tom Heaton
6.61 - Jason Shackell
6.56 - Scott Arfield
CLARETS MAD PLAYER OF THE YEAR TABLE
107: Jason Shackell & Sam Vokes
87: Danny Ings
69: Scott Arfield
60: Kieran Trippier
48: David Jones
47: Michael Duff
37: Tom Heaton
35: Dean Marney
32: Ben Mee
22: Keith Treacy
9: Kevin Long
8: Alex Cisak
7: Michael Kightly & Junior Stanislas
3: Danny Lafferty