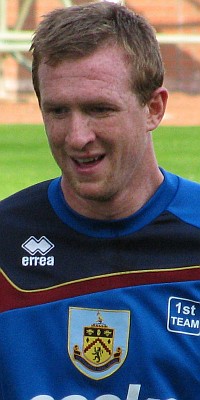 Steven Caldwell conceded early pen
Blackpool, by all accounts, were very impressive on Saturday in beating Ipswich 6-0. I suppose you have to be with a scoreline like that and right now they seem to have the form player in the division in Tom Ince.
He scored two more goals and added to that with three assists as the Seasiders made it three in three and took their goal tally for the season into double figures. It's a good start for Holloway's men who have a two point lead over their nearest challengers, Sheffield Wednesday and Blackburn.
Our local rivals were, it has been reported, somewhat fortunate to beat Leicester and they could be thankful for two very dubious decisions going their way, one allowing a Nuno Gomes goal to stand and the other ruling out a perfectly legitimate Jamie Vardy goal that would have given Leicester a 2-1 lead a minute before pensioner Morten Gamst Pedersen, complete with walking stick, scored the winner.
On the subject of referees; Sheffield Wednesday defender Miguel Llera scored twice on Saturday, his second winning the game in the last minute of normal time. He charged into the crowd and won himself a mandatory yellow card; or should have done but referee Mick Russell didn't bother. If we are not going to get consistency on these incidents what chance do we have with referees?
The Udinese franchise won their televised home game against Birmingham 2-0 down the yellow brick road. Gianfranco named just five of his eight loan players, with two of them getting the goals, but it will be interesting to see how far he pushes it with eight to choose from.
Wade Elliott sat and watched this game from the bench and I bet Steven Caldwell wishes he had. It was his stupid push that brought about the fourth minute penalty that saw them go behind.
The weekend had started with the televised game between Bolton and Nottingham Forest. It was decent; it ended 2-2, but if anyone questioned Eddie Howe's words after our defeat a t Huddersfield then Owen Coyle's took some believing.
He referred to both Forest goals as exquisite and then said his team would have to dust themselves down, so there was plenty there for the bingo players.
Poor Palace and Posh; both down there with three defeats. For Palace it must be worrying times. They failed to win any of their last nine league games last season and right now you would imagine Dougie Freedman's position is as fragile as that of any Championship manager.
The sackings have started. League One Coventry dispensed with the services of Andy Thorn yesterday and it won't be long before we have the first change in the Championship. I have to say my money, for now, is on former Palace player Freedman.
I've made a decent start to the Fantasy Premier League Mad game this season but my abilities have not extended to the Championship as yet. I tipped Bristol City to struggle; they are currently fourth. I tipped Birmingham to challenge; they are in the bottom three.
It can all change very quickly. We are 18th now but with two home games next (and I imagine this season we'll be better at home) things could look so much different.
The first of those home games is against Brighton this week. Will Gus Poyet's team be a disgrace. Having failed to score all season they hit Barnsley for five on Saturday. Tykes' boss Keith Hill was as honest as the day is long. He apologised to the travelling fans for what he described was an inept performance.
The results and stats are below along with the leading goalscorers, each club's disciplinary record, the highest and lowest attendances and the weekend fixtures.
The Results
Friday 24th August

Bolton Wanderers 2 Nottingham Forest 2

Saturday 25yh August

Blackburn Rovers 2 Leicester City 1

Middlesbrough 2 Crystal Palace 1

Blackpool 6 Ipswich Town 0

Peterborough United 1 Leeds United 2

Brighton & Hove Albion 5 Barnsley 1

Sheffield Wednesday 3 Millwall 2

Bristol City 4 Cardiff City 2

Watford 2 Birmingham City 0

Charlton Athletic 0 Hull City 0

Wolverhampton Wanderers 1 Derby County 1

Huddersfield Town 2 Burnley 0
The Stats

Biggest Win

Blackpool 6-0 v Ipswich Town (home)

Total Goals Scored

43 (31 home - 12 away)

Player Scoring Most Goals

2

Ashley Barnes (Brighton & Hove Albion)
Luciano Becchio (Leeds United)
Tom Ince (Blackpool)
Miguel Llera (Sheffield Wednesday)
Craig Mackail Smith (Brighton & Hove Albion
Martyn Woolford (Bristol City)

Highest Attendance

24,752 - Sheffield Wednesday v Millwall

Lowest Attendance

11,022 - Watford v Birmingham City

Total Yellow Cards

28

Total Red Cards

0

Most Cards in a Game

Bolton Wanderers v Nottingham Forest (6Y) Ref: Dean Whitestone
Leading Goalscorers (League Only)

4

Tom Ince (Blackpool)
Jermaine Johnson (Sheffield Wednesday)

3

Luciano Becchio (Leeds United)
Martyn Woolford (Bristol City)

2

Alem Abdi (Watford)
Charlie Austin (Burnley)
Ashley Barnes (Brighton & Hove Albion)
Nouha Dicko (Blackpool)
Craig Davies (Barnsley)
Chris Eagles (Bolton Wanderers)
Owen Garvan (Crystal Palace) - includes 1 penalty
Colin Kazim-Richards (Blackburn Rovers)
Andy King (Leicester City)
Miguel Llera (Sheffield Wednesday)
Craig Mackail-Smith (Brighton & Hove Albion)
Jordan Rhodes (Huddersfield Town)
Matej Vydra (Watford)
Nikola Zigic (Birmingham City)
Disciplinary Record (League and Cup)

Club

Y

R

Y

R

Club

Y

R

Y

R

League

Total

League

Total

Barnsley

7

0

9

1

Huddersfield Town

5

0

6

0

Birmingham City

1

0

1

0

Hull City

2

0

2

0

Blackburn Rovers

4

0

4

0

Ipswich Town

2

0

2

0

Blackpool

3

0

3

0

Leeds United

6

0

7

0

Bolton Wanderers

8

0

8

0

Leicester City

4

0

4

0

Brighton & Hove Albion

2

0

3

0

Middlesbrough

4

0

4

0

Bristol City

3

0

5

0

Millwall

4

0

6

0

Burnley

2

0

4

0

Nottingham Forest

7

0

7

0

Cardiff City

3

0

5

0

Peterborough United

7

0

8

0

Charlton Athletic

1

0

1

0

Sheffield Wednesday

6

0

7

0

Crystal Palace

4

0

6

0

Watford

4

0

5

0

Derby County

2

0

3

0

Wolverhampton Wanderers

2

0

4

0
Highest and Lowest Attendances

Highest

Lowest

Att

Fixture

Att

Fixture

27,437

Derby County v Sheffield Wednesday (18/08)

6,188

Peterborough United v Millwall (21/08)

25,518

Brighton & Hove Albion v Cardiff City (21/08)

10,432

Peterborough United v Leeds United (25/08)

25,379

Sheffield Wed v Birmingham City (21/08)

11,010

Millwall v Blackpool (18/08)

24,752

Sheffield Wednesday v Millwall (25/08)

11,022

Watford v Birmingham City (25/08)

24,594

Brighton & Hove Albion v Barnsley (25/08)

12,203

Barnsley v Middlesbrough (18/08)

24,400

Wolverhampton Wanderers v Barnsley (21/08)

12,221

Bristol City v Crystal Palace (21/08)

23,863

Leicester City v Peterborough United (18/08)

12,422

Watford v Ipswich Town (21/08)

23,745

Leeds United v Wolves (18/08)

13,562

Blackburn Rovers v Hull City (22/08)

21,861

Wolves v Derby County (25/08)

13,935

Blackburn Rovers v Leicester City (25/08)

21,575

Nottingham Forest v Bristol City (18/08)

14,266

Blackpool v Ipswich Town (25/08)
The Week's Fixtures
Saturday 1st September

Barnsley v Bristol City

Ipswich Town v Huddersfield Town

Birmingham City v Peterborough United

Leeds United v Blackburn Rovers

Burnley v Brighton & Hove Albion

Leicester City v Blackpool (17:20)

Crystal Palace v Sheffield Wednesday

Millwall v Middlesbrough (12:45)

Derby County v Watford

Nottingham Forest v Charlton Athletic

Hull City v Bolton Wanderers

Sunday 2nd September

Cardiff City v Wolverhampton Wanderers (14:00)