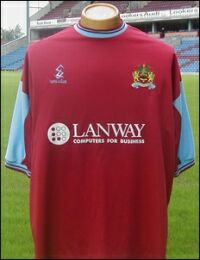 The first Lanway shirt two years ago
Lanway's two year deal is now at an end and it is has been suggested that they would like to continue but are looking to reduce the figure that they have previously paid.
It now looks as though they will be sponsors of the home kit only with the Club free to look elsewhere for a deal for the away shirt. Companies both locally and nationally have been approached.
Should this happen it will almost ensure that the Clarets will play even less away matches in the tradition claret and blue colours, a bone of contention with many supporters. So often last season we played in the dreadful 120th anniversary kit (a year late in our 121st year) when clearly we should have been playing in claret and blue.
A seperate deal would make it very unlikely that we would be many (if in fact any) away games in our own colours.
There has been no news as yet of the design of the new kits with the club's chief executive Andrew Watson only prepared to say that the home kit will a traditional element. That probably means we will at least be playing in claret and blue at home.
However Watson has privately told a friend of mine that the home kit will be the usual claret shirt with blue sleeves along with white shorts and socks (although apparently the neck will make it look more Aston Villa than Burnley). He also said that the away kit (the one that really is a closely guarded secret) will in fact be silver/grey. There could have been changes to these designs since but that does appear unlikely.
So it is another two new kits, a controversial decision as we seem to have taken over from Manchester United as the club with more kits than any other. Of course Manchester United are now tied into the Premiership charter which ensures all shirts are for two years. Once the two new kits have been worn it will take the total of different kits used to ten since we won promotion three years ago.
There is no doubt that some supporters like new kits every year whilst others don't. If you don't like the idea of more new kits though the chief executive will ask (in fact tell) you not to get in the way of those that do.
He told the Lancashire Evening Telegraph, "We agreed with Official Supporters Clubs a couple of years ago that we would change the strips every season.
"The fans said that it was for the good of the club and if we can repeat last season's total of around 12,000 sales, then we will be delighted."