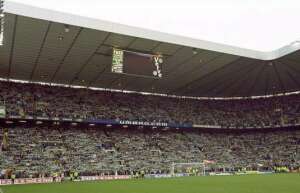 Celtic Park
Nobody came nearer to a place in Division Two without making it than Rushden & Diamonds, going down in the Play Off Final last Monday, and Brentford suffered the same way yesterday in their bid for a place in Division One. They only missed out on automatic promotion because of one goal scored by Reading's Jamie Cureton but yesterday they were beaten at Cardiff by Stoke.
That's what the game is all about though as teams strive to win promotions to the next league whilst other fight the dreaded drop down a division. That is how it is and that is how it should be but now and again some fools try to change all the rules.
Firstly we had Milton Keynes who suddenly decided they wanted a league club so came up with this crazy franchise idea to move Wimbledon some 70 miles to play there. That is still ongoing and for the sake of football it must be hoped that the move does not come off.
Now we have some idiots trying to bring foreign clubs into our league and bringing them straight into the highest Football League division. Despite denials today from the Football League it is clear that there are more moves to try and bring both Celtic and Rangers in via some fast track system that is a complete insult to clubs such as Brentford.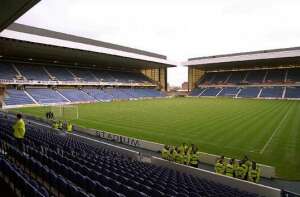 Ibrox Stadium
If the footballing bodies are denying any knowledge then who is it that has apparently invited them. All fingers appear to pointing to Valley Parade and Mr. Pompous who on more than one occasion has publicly promoted the idea of the two Glasgow clubs moving into an English league. It was initially the Phoenix League, the move away from the Football League that was supported by this particular League board member.
There is a suggestion that the lower clubs in the Premiership would be very much against such a move, after all with their financial resource both Celtic and Rangers would be favourites for an early promotion to the Premiership and the likelihood of them staying there. It would then make life even more difficult for the lesser lights at the top level.
Surely it would not be particular good news either for those clubs in the Nationwide First Division with any Premiership aspirations, they would in one fell swoop see their chances of reaching the promised land made considerably more difficult.
The leagues around the world are national leagues and as such should include clubs from that country. There is a Scottish League of which Celtic and Rangers are both members and that is exactly where they should stay. And whilst we are on the subject can I also point our that there is a Welsh League too.