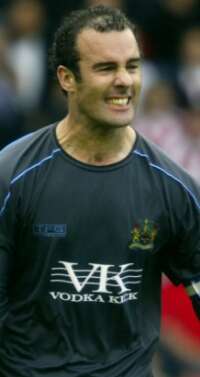 Graham Branch - set to lead an unchanged team at Mansfield
Despite another defeat last Sunday Stan thought the Clarets had played well and could quite easily have won the game but had little luck in front of goal and then fell to a goal because of an individual error at the back.
He pointed the finger at skipper Graham Branch for the goal, it was difficult not to, but it seems very unlikely that the one mistake will cost him a place.
There can be no change in personnel in the squad with the sixteen players on duty last week the only ones available tomorrow. Arthur is serving the second game in his two match ban whilst it has been confirmed that Glen Little will be out for at least three weeks with his latest hamstring injury.
The only other question mark surrounded Jay McEveley but our 'fiends' and neighbours Blackburn Rovers have given him permission to play even though it will leave him cup tied for when he returns at the end of his loan spell.
Stan has thanked Graeme Souness but Jay is not due back at Ewood until sometime in March and by then it is more than likely that our local rivals will have ended their interest in the FA Cup.
I expect Burnley to line up: Brian Jensen, Dean West, David May, Graham Branch, Mo Camara, Paul Weller, Richard Chaplow, Tony Grant, Luke Chadwick, Robbie Blake, Ian Moore. Subs: Lee Roche, Mark McGregor, Jay McEveley, Joel Pilkington, Matt O'Neill.
Mansfield have injury problems but not quite as bad as first feared. They are almost certain to be without defenders Tony Vaughan and Bobby Hassell who are struggling with rib and hamstring injuries respectively.
But there is good news for them with Liam Lawrence, Iyseden Christie and David Artell all expected to be fit although a back injury could keep out Craig Disley.
Mansfield's likely starting line up is: Kevin Pilkington, Jamie Clarke, David Artell, Rhys Day, Luke Dimech, Wayne Cordon, Lee Williamson, Liam Lawrence, Tom Curtis, Iyesden Christie, Junior Mendes.