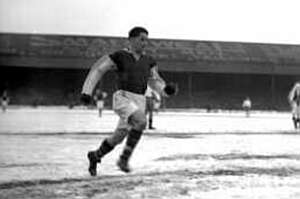 Billy Morris attacking the Bee Hole End in a game in season 1946/47
Morris passed away on New Year's Eve and was the third member of the Cup Final team to die last year following left-half George Bray and outside-right Jack Chew.
He had become the only full international in the team just ten days before the Wembley final against Charlton Athletic when he played for Wales against Northern Ireland in Belfast and he went on to win a further four caps although they were over a period of five years.
He made his league debut for the Clarets in the last full season before World War II, a home game against Norwich in January 1939. He played twelve games that season but didn't score, in fact his first goal for the club was Burnley's first competitive post war goal in January 1946. He had returned for the 1945/46 season and although there were no Football League fixtures he scored our first post-war FA Cup goal against Stoke away in January 1946.
He was a regular in the side for the first six seasons after the war which saw us win promotion and establish ourselves as a top half First Division club. He played a total of 211 league games for us, his only club, and scored 47 goals and one of those goals was a cracker that nobody ever seems to remember. It came in a 2-1 win against Newcastle at home in which Tommy Cummings scored reputedly the club's best ever goal.
After retiring from playing in 1952 he had a period on the coaching staff but in 1960 he moved back to Wales to manage Wrexham. He was manager there on two separate occasions, his second ending in 1965 after which he retired from the game.
The team that became the first to represent Burnley Football Club at Wembley have now sadly all passed away. The team read: Jimmy Strong, Arthur Woodruff, Harold Mather, Reg Attwell, Alan Brown, George Bray, Jack Chew, Billy Morris, Ray Harrison, Harry Potts and Peter Kippax.
Clarets Mad send their condolences to Billy's family and friends at this very sad time.