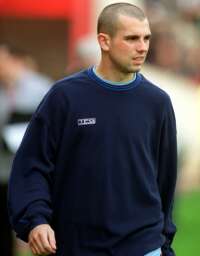 Mark McGregor
The club gave the official attendance as 681, but then the next day announced the even better news that the actual attendance was probably nearer 800 as the turnstiles were closed and the gates were opened at kick off (remember it was free admittance as we were fielding a non-EU trialist, Rick Titus). So how does this compare with other reserve attendances in the Avon Insurance Premier League?
The immediate response is very well indeed; in fact, it looks like it set a record for the season so far! Not all clubs, Burnley included, publish the gate for reserve fixtures, but as far as I can tell the previous highest this season was the West Midlands derby at Molineux between Wolves and West Brom which attracted 662 fans. Admittedly, this was played on Bonfire Night which could have affected the attendance, but I would like to think that if Burnley had played Blackburn in similar circumstances the attendance would have been considerably higher. (The atmosphere in the ground may have been similar though as Wolves had two players sent off and the ref needed a police escort at the end of the match!)
Another derby provides the next highest, with 485 watching Birmingham play West Brom. Blues' next home game attracted 284 for the visit of Wolves, and this would seem to be about average for this league. For at the other end of the attendance table lie Huddersfield, whose policy of playing reserve games at 2pm in midweek has scarcely had the crowds flocking in. 187 brave souls turned their backs on Christmas shopping on December 18th to see the Terriers draw 0-0 with Wolves. But even this mighty throng was eclipsed in the home fixture with Preston when a mere 95 diehards tuned up to witness a 4-4 thriller.
Not only are games affected by ridiculous kick-off times, but there has also been an increasing (and disturbing) tendency in recent years for some clubs to forsake their own turf and play elsewhere, usually at a nearby non-league club. So this season we have Birmingham at Solihull Borough's Damson Lane ground; Preston play several fixtures (including our game in February) at Lancaster City's Giant Axe stadium; Tranmere entertain the opposition at Vauxhall Motors now; and West Brom have currently deserted the Hawthorns for the delights of Halesowen Town, recently attracting 150 for the visit of Rotherham. Oh, and let's not forget the most bizarre removal of all, Wolves' decision to abandon Molineux for the mighty RAF Cosford, resulting in an attendance of 159 to witness their 5-2 demolition at our hands.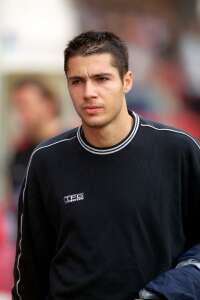 Luigi Cennamo
Why do clubs do this? Presumably, as with every other decision connected with football, the reason is financial gain, or indeed to avoid financial loss. Or is to protect the pitch? Whatever, the "benefits" in either case would appear to be minimal, and do not compensate for the obvious advantages for fans and players alike of clubs playing at their spiritual home. After Roll Up For The Reserves, Supremo Ronnie made the point that young players in particular benefit from a decent atmosphere: "It was a big crowd, they got behind us and it was nice for the young lads. They definitely noticed it and it was a good experience for them." Contrast this with our game at Cosford where some of the Wolves "star" players were clearly not up for it, much to the disgust of the locals.
Let's hope something is done to buck this trend. To their credit, Oldham recently announced that they would be playing all their remaining home fixtures at Boundary Park having forsaken Ashton United. And surely it is unfair on the supporters of Huddersfield Town for example who, unless they are unemployed or retired, will scarcely get a chance to see the reserves. Is there a reduction in price made to the season ticket to take account of this? I somehow doubt it.
A quick trawl through the websites of the clubs involved in our Division gives a good indication as to the degree of importance they attach to their second strings. To their credit, burnleyfootballclub.com do give the reserves good coverage, with quick and detailed match reports and a separate section on the site. More information about some of the less well-known players would be welcome, however, and injury updates in particular would help. Earl Davis' recent absence remained a mystery for some time, and John Williamson apparently has his foot in plaster at the moment without any explanation offered. These details do matter to fans; it's not just the first team squad we want information about.
However, many other sites only offer only cursory details at best with West Brom, Oldham and Wrexham having no section whatsoever for the reserves. Up to date league tables are virtually non-existent (except on Clarets Mad of course), and as for the youth team a phone call to the club is the only way to get information for most (again, Burnley usually do well in this area).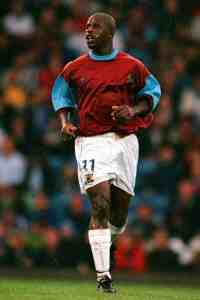 Lenny Johnrose
So how do these attendances compare with those in the FA Premier Reserve League? Again, although information is more readily available (with one or two notable exceptions such as the woeful coverage on Manchester United's site) attendances are rarely published and most clubs play their games at nearby non-league or lower division grounds. Last season's record gate in the Northern Division was 8,060 for the Sunderland v Manchester United clash, whilst 4,731 saw the Southern Division's record when Leicester played Chelsea.
A quick trip from north to south of some of the statistics available for the current season reveals some interesting details. Newcastle United, who play at Newcastle Rugby Club's Kingston Park, had 1,758 turn up for the 4-2 derby defeat by Sunderland. However, only 977 saw their 6-1 thrashing of Aston Villa. Sunderland's derby with Middlesbrough at Durham City's New Ferens Park attracted 1,987; the lowest of the season so far was 1,375 for the visit of Everton. The mini Merseyside derby brought in 2,513 to Southport's Haigh Avenue to witness a 1-1 draw in what was a home fixture for Liverpool.
Further south Arsenal had an attendance of "approximately 2,000" at Barnet's Underhill ground for the 4-0 defeat of north London rivals Spurs. Contrast that with another derby when only "about 700" turned up at Stamford Bridge to see the Gooners stuff Chelsea 4-0, a match that was shown live on Japanese TV as Junichi Inamoto was making his debut on English soil!
However, the Reserve Premiership prize so far must go to Southampton. For in only the second game played in their wonderfully named Friends Provident St Mary's Stadium a crowd of 6,500 saw the Saints draw 3-3 with Chelsea! Mind you, it was free entry as part of a sponsorship deal with Radio Solent.
But even allowing for the occasional bumper attendance, there's no doubt that Reserve team football throughout the country is nowhere near as well-attended as in bygone days. Crowds of over 5,000 were not uncommon when I started watching reserve games at the Turf in the early 60s. Clearly as the fortunes of the first team decline then the reserves will suffer. But it's good to see that at Burnley at least, slowly but surely the fans are returning.
Of course the Preston game was a one-off. But let's hope sufficient numbers were persuaded to return. The next game is tonight at home to Tranmere who themselves have some very promising youngsters. A victory could take us third.
Rolling Up For The Reserves has already given us the record attendance this season in the Avon Insurance League.

Let's see if we can set a new one tonight.