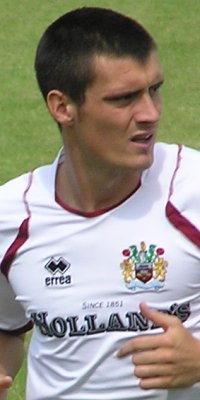 Stephen Jordan - cracking first half until the City goal
We got ourselves onto the ground, and I have to say, for a Wednesday night, the following was fantastic. The top tier was pretty much full. This was my first visit to Valley Parade or whatever it wants to be called today - I dread to think what that stand must have been like when Bradford were in the Prem. The stewards were clearly not the sharpest tools in the box.
The game got started. Burnley started with Diego in goal, a back four of Kalvenes, Jordan, Carlisle and Alexander, a midfield of the Latvian trialist of whom we gave several names last night (Sloppychops, Berbatov...!), Van Der Schaaf, Mahon and youngster Alex MacDonald and a front two of Blake and Paterson.
Burnley - in terms of chances - edged the first half. The Clarets could've easily gone into the break at least 3-0 up, but some of the shots were wayward from our Latvian man of many names and Mahon was unlucky with a chance midway through the half. It has to be said, Coyle has certainly instilled some belief into this side that we can score goals from anywhere and it appears the players have a "don't shoot, wont score" approach. I've never seen a Burnley team have so many attempts on goal from outside the box. Burnley usually guilty of trying to walk the ball in, in recent years.
Diego Penny was rarely called into action. When he was required though, he pulled off a couple of decent saves, and compared to keepers we've had over the past couple of seasons, his kicking seems pretty good. Alex MacDonald had a decent game. He linked up well with Blake and on 2 or 3 occasions found himself bursting into the box, only to be thwarted by the Bradford goalkeeper.
Remco Van Der Schaaf was asked to leave the field of play by referee Laws for some, lets say, enthusiastic challenges! It's safe to say that we have found a ball winner in the middle of the park - one we have lacked, many say since we lost Kevin Ball. Joey Gudjonsson came on in place of Remco.
However, it was the Bantams who went into half time in the lead - Conlon racing on to a ball in which he coolly lobbed over the out-charging Penny. I didn't see the error of which I'm told about that led to the goal, but overall, I don't think that the defence played all that badly. Stephen Jordan was apparently at fault, but to me, I think he had a cracking half - winning header after header and broke play up well. In the first half, it can safely be said that Alexander is the weak link at the back. Their number 11 (Sorry, didn't catch his name) was pacy and beat Alexander a few times - and with relative ease.
At half time, we went to the food stall. I won't be going there again in a hurry. £3.10 for a cheeseburger. £2.90 for a beefburger. £1.80 for a bottle of Coke and £0.90 for a packet of crisps. I didn't realise that watching a League 2 team could be so expensive. Advice for anyone visiting Flamingo Land this season? Take your own packed lunch!
Coyle made a few changes at half time - Jordan and youngster MacDonald were replaced by Caldwell and Steve Jones - both of whom I thought played well.
The second half was a different story. Burnley came out and were on top from the off. Blake in the second half was superb. He was the Robbie we know he can be. He grabbed the game by the scruff and created play fantastically well. He and Paterson seem to be making a pretty decent partnership - Blake's creativity and Paterson's running and searching for the ball when we don't have possession.
Burnley had plenty of chances, Alan Mahon again denied by the Bradford keeper, who to be fair, kept the score down for the hosts.
After continued pressure from the Clarets, something had to give for Bradford. Their defence being forced back with the inventive Blake and the running of Paterson and the confident Steve Jones. In recent weeks, Steve Caldwell has been in for a bit of criticism, but he was in the right place at the right time to guide the ball home from another excellent Robbie Blake corner.
Burnley continued to dominate and Diego in goals was a virtual spectator in the second half although Bradford were unlucky not to retake the lead late on in the game, but the City forward dragged his shot wide of the Burnley goal.
With the number of attacking players Burnley had out late in the second half - Jones in full flow, who I was impressed with last night, Berisha, who tried his best to get himself into the game and showed glimpses of the trickery we saw him produce for Albania at the Turf last summer, Ade hustling and bustling we've grown to love and know and even the touch of trickery we've never seen from the powerhouse - back heels, step overs - intended or not, we'll never know!
The pressure finally told, and with pretty much the last kick of the game, a cross from the left found Steve Jones powering into the box, and he headed the ball home brilliantly past the Bradford goalie (Yes, you did read that right. 'Steve Jones' and 'header' in the same sentence!)
All in all, an enjoyable evening out, great atmosphere for a friendly - over 750 Burnley fans present, decent performance from everyone in a Burnley shirt - everyone put in a shift tonight - and all added to a whiff of a cracking curry being made!
I have to say, I'm looking forward to the new season with an optimism that hasn't been felt for years. Fans seem to be appreciating the efforts the Club are making to back Owen Coyle. We've got competition for places everywhere across the pitch now - and everyone seems to want to play and graft under the gaffer.
Roll on the 9
th
of August, I say!