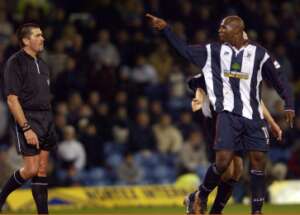 Roberts points a finger but should have been receiving a red card
Roberts has pointed more fingers at the Burnley players today than he waved at the Turf Moor crowd last night with a series of offensive gestures that did him, his club and football no favour whatsoever.
Let's get one thing agreed straight away, he was Albion's match winner and a deserving man of the match. He is a good player of that there is no doubt. However, not for the first time, his on field antics against the Clarets left a lot to be desired.
Last night West Bromwich Albion's official web site accused Kevin Ball of elbowing Roberts. What a disgrace that is from a Football League club, television evidence shows quite clearly in the incident towards the end of the game that there was no elbow.
Not satisfied with that we have today had Roberts ranting, again on their disgraceful official site, about how we apparently elbowed him from pillar to post. Funny though he has no idea who has done it. What a surprise!
This is what Roberts had to say on their web site:
"If I was disappointed with anyone, it was the referee. Someone who had scored two goals had suddenly got blood trickling down his face. Most people would have realised there was a reason for the rough treatment, but the ref seemed happy to let it roll on.
"Everyone would have seen what happened before I got taken off on TV. I'm still not even sure who the player was, but he just came over and punched me. I was wrong to react the way I did.

"But I just don't see how you can get away with that, in full view of everyone, without even being booked when I'd already needed three stitches.
"I can deal with getting kicked but to get elbowed three times and for no-one to get punished or even spoken to, I don't think that's acceptable on a football pitch. I took the first two and didn't say anything but the third one was too much."
You think that's bad, then it gets worse because apart from allowing it to go out on the internet his manager has then gone on and supported him adding,
"I don't accept dissent from any of my players but in my view dissent is when you shout at the referee or kick the ball away. Dissent isn't when you get clattered and need three stitches."
This is out of order and attacks on our club of this nature should not be allowed. I'll refrain from giving my views on Roberts here, it would probably get this site shut down.
I sincerely hope Burnley Football Club issue some sort of statement about this and I sincerely hope the Football Association charge Roberts with bringing the game into disrepute. Under no circumstances should he be allowed to get away with this.
I find his attack on referee Winter amazing given that once again he got away with far too much throughout the game, not as though I am suggesting that I have much time for Winter.
Apparently it is not the first time West Brom have been upset with Winter this season. When they played Wolves at home he ordered West Brom's Scott Dobie to his feet when he went down injured. Dobie actually needed seven stitches in his scrotum. And I thought it was Winter who had no balls.