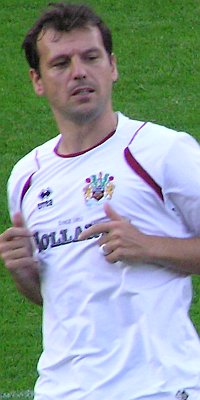 Robbie Blake - superb performance
When Robbie is at his best he's a delight to watch, and Robbie was at his best here against his old club an no matter how much competition there is now for places in the team a week on Saturday he has surely claimed one of them after this ninety minutes.
Not as though it was all Robbie, and not as though it was an easy victory with the winning goal coming in the very last minute of the game from a Steve Jones header. But it was a night to sit back and watch our little magician on a night when in all truth we should have won this game by some margin.
In the end four of our new signings were in the team. We knew Chris Eagles wasn't available and Kevin McDonald continues to miss out with a foot injury. However, the others all started although for Remco van der Schaaf it proved to be a shorter evening than expected courtesy of the dreaded Graham Laws, a referee who can even get the Burnley fans angry in a friendly.
We started the game brightly and got at the home side down the flanks. Both wide men, Solovjovs and Alex MacDonald caused early problems for the City defence but other than a tame effort from Martin Paterson it all came to nothing.
It was at the other end where the first goal almost came. A shot from just outside the box looked to be heading for the corner but with keeper Penny unable to get close to it he saw defender Clarke Carlisle clear off the line.
Penny did well though twice, once to cut out a cross from the left and then to make a point blank save. Other than that he was under employed in the first half but up the other end of the pitch his counterpart Rhys Evans was beginning to keep Bradford in the game.
He brilliantly kept out a MacDonald effort after the winger had cut in, linked up with Paterson and then hit a shot from outside the box. He then got down well to save from Paterson himself who had been played in by Blake.
You just sensed a goal would come and again the keeper did well to keep out MacDonald before our old friend Graham Laws too command of proceedings. He'd spoken harshly to van der Schaaf following a heavy challenge and you sensed he was after him. When a home player went down under a challenge that really was something and nothing it was time for Laws to act and he told Burnley they must substitute him.
It's not often you hear cries of 'You don't know what you're doing' aimed at a referee during a friendly, but it was no surprise given this official who certainly showed precious little consistency later in the game, particularly with two awful challenges that took out Steve Jones and Blake respectively.
Joey Gudjonsson came on for Remco and soon after, incredibly, Bradford City took the lead. Stephen Jordan had played really well up to that point in the centre of defence but he misjudged a ball and let in the well travelled Barry Conlon who now plays his football with his head upside down. He calmly lobbed the ball over Penny right in front of the Burnley fans we were behind.
That was it for the first half, and that was it for Jordan who was replaced by skipper Steven Caldwell at half time with Jones also coming on at the expense of MacDonald.
I thought we'd been the better side in the first half and found it difficult to believe we were behind, but we stepped it up and totally dominated the second half with Diego in the distance nothing other than a virtual spectator for most of it.
Almost immediately we were level as Robbie left two defenders standing but shot wide. We didn't have to wait long though. From a corner on the right he found Caldwell at the far post and he headed home just inside the woodwork. In fairness it should have been kept out and for once the keeper and defence were found wanting, but this was no less than we deserved.
Within two minutes Alan Mahon was inches from giving us the lead with the most audacious of efforts. We won a free kick some forty yards from goal. He looked up, saw the keeper off the line and chipped him. It certainly dipped but just cleared the bar by inches.
Solovjovs, Blake and Gudjonsson all had shots saved. Alexander was close to a brilliant second whilst Mahon and Bes Berisha (now on as a sub) had efforts blocked.
Then we thought we'd won it from yet another piece of brilliance from Robbie who turned a defender before hitting his shot to Evans' right. I was on my feet to celebrate the goal but it went inches wide.
Just after there was our one worrying moment of the half when Peter Thorne, always one in our side, could have clinched a winner but shot wide. He and his side paid for that and justice was finally done when Jones got to a Gudjonsson cross to head home to win it in the very last minute.
I know it is pre-season, but we have now won six and drawn one of the last seven games, and amazingly our 18 goals so far in pre-season have been scored by 13 different players. Paterson has scored three with Ade Akinbiyi, Gudjonsson and Jay Rodriguez all having scored two.
There were some really good performances from Burnley players in this game. There's no doubt that trialist Solovjovs impressed and the visiting fans chanted 'Sign him on, sign him on' as he made his way up the touchline.
Mahon was in top form, and generally we troubled them when we went forward. But surely there could only be one man of the match and that was Robbie Blake. When he plays like this he really is worth the admission money.
The teams were;
Bradford City:
Rhys Evans, Paul Arnison, Paul Heckingbottom (Luke O'Brien), Paul McLaren, Graeme Lee, Matthew Clarke, Willy Topp, Luke Sharry, Barry Conlon (Louis Horne), Peter Thorne, Omar Daley (Sean Taylforth). Subs not used: Mark Bowen, Jon McLaughlin, Simon Ainge, Luke O'Brien.
Burnley:
Diego Penny, Graham Alexander, Clarke Carlisle, Stephen Jordan (Steven Caldwell 45), Christian Kalvenes, Alex MacDonald (Steve Jones 45), Remco van der Schaaf (Joey Gudjonsson 31), Alan Mahon (Bes Berisha 72), Aleksandrs Solovjovs (Adam Kay 81), Martin Paterson (Ade Akinbiyi 61), Robbie Blake. Subs not used: Brian Jensen, Michael Duff.
Referee:
Graham Laws (Tyne & Wear).
Attendance:
2,227 (including 756 Clarets).