Robbie Blake put pen to paper this morning on a four and a half year contract after successfully completing his medical yesterday afternoon.
The Clarets latest signing told the Official web site this morning,
"I thought it was time to move on from Bradford. It's been a long time but I hope it will prove a good move for me. I'm delighted to be here now and trying to push for promotion. There are a lot of good players here, so hopefully we can do well and it'll be a nice new challenge for me."

Blake however will not be available for the Clarets in this Sunday's FA Cup tie against Cheltenham Town, he played in the 3
rd
Round for Bradford City in their defeat at Walsall, playing just the first 34 minutes of the game before going off injured. The earliest we are going to see him in action in a Claret and Blue shirt will be the televised game against West Brom on Sunday 3
rd
February.
The Middlesbrough born Blake started his career in the North East with Darlington for whom he made 68 league appearances, including 14 as sub, scoring 21 goals before signing for Bradford City just after his 21st birthday in March 1997 for £300,000. It was Sky claptrapper Chris Kamara, yes the one who didn't reckon on Burnley's chances this season, who was in charge at Bradford at the time.
He made his debut for the Bantams two days after the transfer in a 3-1 defeat at Portsmouth in a First Division game. It was the following season before he scored his first goal for his new club and that was the winner in a 2-1 victory at Huddersfield. He had come on as a sub and been on the pitch just six minutes.
He was part of the Bradford team under Paul Jewell who won a place in the Premiership in 1998/99 scoring 16 First Division goals in 39 appearances. Only Lee Mills, now at Coventry, scored more with 23.
Blake then played in the Premiership for two seasons as Bradford successfully avoided relegation first time round before sinking almost without trace in the second season. He was never a regular in the side though in the Premiership and played 49 league games over the two seasons with 20 of those as a sub and scored just six goals with two of them from the penalty spot. All six of the goals came in home matches.
During last season he spent a period on loan at Nottingham Forest and it was during this time that he was first linked with a move to Turf Moor, over twelve months ago. He scored one goal in eleven games for Forest, a winner at Barnsley, and played against the Clarets when they beat us 5-0.
He was constantly linked with us over the summer but when the new season started he was still at Valley Parade. He struggled to get into the side at first and was mainly being used as a substitute but eventually won himself a regular starting place. He has started the last 16 games and overall has played in 26 league games this season, 19 starts and 7 as sub. He has scored 10 goals in those games and only Eoin Jess with 11 has scored more.
The Clarets have made a number of offers for him and when an offer was finally accepted Blake told Bradford City that he wanted to play for Burnley, in fact Blake's representatives told the Yorkshire club six weeks ago that he wanted to play for Burnley.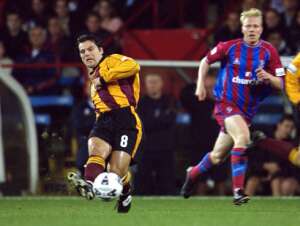 In action against Crystal Palace
Bradford City chairman Mr. Pompous Geoffrey Richmond broke off from secret talks on setting up his own league to say,
"We will be extremely sorry to lose the services of a very talented player who perhaps has not achieved his full potential while here at Bradford City. We do not really want to lose him but it has always been the club's policy not to stand in the way of an unhappy player".
The talks have taken some time although probably no longer that with any other deal, it is just that we have known about it this time but after those long talks and a successful medical Robbie Blake is now a Claret.
The Bradford City fans seem less than delighted with the news and here are some comments they have left on message boards.
"Why do we sell our players on the cheap? Should be 2 million."
"He shouldn't be sold in the first place. GR says the player is not happy so that's why he's being allowed to leave. Well make him happy then!!!! Don't let our best attacking talent leave for peanuts."
"Robbie Blake to Burnley. Just when it seemed things couldn't get worse. No doubt he wants to join an ambitious club and we are anything but that. It's a disgrace as was the Windass transfer and the OB transfer. We are a Mickey Mouse club."
"This is the final kick in the teeth for the loyal supporters, it's an absolute disgrace and we all know who's fault it is. Law has been here less than two weeks and already he is being forced to sell our best players."
"We are a club with no ambition, we had our two years at the top, and are satisfied with it. Will the money go on new players? Or will it be used to pay off the £12million debt the chairman has run up, on a stand we can't fill?"
"In my opinion, he's a better footballer than everyone gives him credit for. A move to a new club will make him a better player now he leaves his "baggage " at VP. He's much better than just a replacement for Glen Little. He should justify a starting place at Burnley."
And the final message from Clarets Mad,
Welcome to the Turf