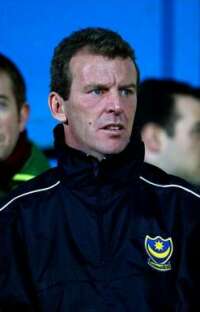 Graham Rix - sacked at Portsmouth
That was the case today when Portsmouth Football Club finally put Graham Rix out of his misery and sacked him. It has been on the cards all season as he has failed to push the club anywhere near the play off positions with chairman Milan Mandaric demanding Premiership football.
Portsmouth are a club in absolute turmoil. The chairman recently tried to stop the players' pay because of poor performances and has more recently threatened to walk away if they don't get into the Premiership. Topping that a total of sixteen players were told last week that they had no future at the club and I wonder how much or how little Rix had to do with that. He is quite clearly not up to running a First Division football club and I don't see a promising future for the South coast club under his control.
Rix took over at Portsmouth at the end of February last year, yes just a year ago and typical of our luck his first game in charge was against us at Fratton Park. They didn't impress but were better than us on the day and won 2-0. He came close to taking them down but they were spared on the last day of the season, they beat Barnsley on the last day of the season 3-0 and Huddersfield went down. Just to think but for that result we would have been looking forward to a short trip to the McAlpine Stadium on Monday rather than going down to Portsmouth.
In the summer former Harry Redknapp joined and it was clear to everyone apart from Mandaric that it wouldn't work with Rix as manager and Redknapp sticking his nose in. It has been more than sticking his nose in, he has been signing players and Rix has had to have them. Surely a manager should be able to decide which players he does and does not want. It nearly came to an end when Redknapp was offered and nearly took the Leicester job but his very presence at Fratton Park did nothing other than undermine Graham Rix.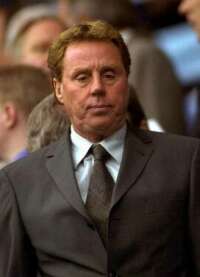 New boss Harry Redknapp, what a shock !!
They are currently in fifteenth place, and they were the club Peter Crouch turned us down for because he thought he had more chance of success there. That looks a good decision Mr. Crouch. The season has been a disaster to be honest. They sold one of the best defenders in the division, Darren Moore, to West Brom and now leak goals for fun. Only Crouch has ever really looked like scoring.
They signed Robert Prosinecki and he has been far too inconsistent and brought in a Japanese goalkeeper who was a disaster. They have now reverted to Dave Beasant in goal who is allowed time off to queue at the post office for his pension.
What next then? Harry Redknapp does not want the job, he has made that perfectly clear on numerous occasions. He does not want to be manager of Portsmouth Football Club.
Milan Mandaric has suggested that it was the fans who pleaded with him to sack Rix but I don't think anyone believed that. He has acted quickly though to appoint a new manager and despite all the comments and statements made it is absolutely no surprise that Harry Redknapp is the new manager of Portsmouth. I suspect Rix knew that last summer when Redknapp arrived.
Needless to say his first home game in charge will be against the Clarets when the players should be up for it. They have to be though because otherwise they don't get paid.
Incredibly Portsmouth became the eleventh club in our division to change manager this season.