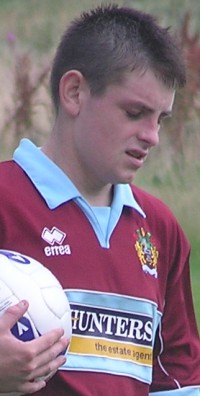 Rob Henry - last game for the reserves

The match is between the two clubs directly above bottom club Wrexham, with Chester currently one point ahead of us. Tonight's result will determine who finishes the higher.



With the first team squad having completed their season it is yet another team of youngsters who will line up tonight, and there will be four members of the Centre of Excellence in the starting line up and three more on the subs bench.



It will also be a last reserve team outing for four apprentices who will be leaving Burnley at the end of the season. Goalkeeper Mark Crossley, full back Rob Henry, midfielder Nicky Platt and striker Cayne Hanley are all set to leave the club and this is a last opportunity for us to see them.



The full Burnley team is: Mark Crossley, Rob Henry, Ben Hoskin, Tom Bradley, Paul Casey, Ali Akbar, Connor Smith, Nicky Platt, Adam Kay, Cayne Hanley, Rob Turner. Subs: Lewis Craig, Dale Underwood, Alex-Ray Harvey, Dean Stott.



There's no news of the Chester team for the match which will kick off at 7:00 p.m.