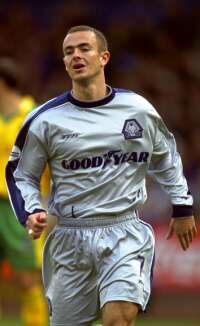 Michael Branch - in the Wolves team
The game kicks off at 7:00 p.m. and we will be looking to pick up some points to climb the table. We have already beaten them once this season with a win at Molineux but tonight's game will be tough with Wolves set to field a strong side.
Burnley field a strong team with players coming back from suspensions and injuries with Ian Cox (on the bench last night), Lee Briscoe and Andy Payton all in the starting line up.
We also include a trialist in 23 year-old French midfielder Amandou Sanokha who has previously played for both Nantes and Italian club Modena and also in is Driss Diallo who was ineligible for the cup tie last night.
The Burnley team is: James Salisbury, Andy Leeson, Gordon Armstrong, Ian Cox, Driss Diallo, Lee Briscoe, Mark Rasmussen, Amandou Sanokha, Andy Payton, Anthony Shandran, Matthew O'Neill. Subs: Earl Davis, Andrew Waine, Joel Pilkington, Damien Hindle, Paul Scott.
The Wolves line up is packed with first team experience such as goalkeeper Andy Oakes, midfielder Kevin Cooper and forwards Michael Branch and Adam Proudlock. The two forwards have both been out on loan this season but are now back at Molineux trying to win back a first team place.
The full Wolves side is:
Michael Oakes, Marc Edworthy, Chris Slater, Keith Andrews, Ludo Pollett, Mark Clyde, Kevin Cooper, Michael Branch, Adam Proudlock, Ivar Inigimarsson, Graham Ward. Subs: Mark McChrystal, Lewis Solley, Sammy Clingan, Jimmy Lee Jones, Kevin O'Connor.