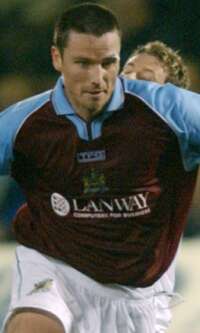 Steve Davis - lines up in the reserves
With the fantastic win at Bury it means Burnley can avoid relegation as long as they don't lose by more than three goals at Tranmere this afternoon.
This will surely be the case although everything is now complicated by Sheffield Wednesday's relegation from Division One of the Nationwide League. We believe this means that Wednesday's reserve team will no longer be able to play in the Premiership Reserve League and will have to take a place in the Avon League.
This though should not affect our position and in any case we could lose either Sheffield United or Wolves reserves if either of their first teams win the play offs.
But again Stan has gone with a strong team and the only changes from Wednesday see Marlon Beresford, Gordon Armstrong and Steve Davis come in for Nik Michopoulos, Danny Pitham and Richard Chaplow.
We will line up: Marlon Beresford, Andrew Leeson, Arthur Gnohere, Mark McGregor, Gordon Armstrong, Steve Davis, Brad Maylett, Andrew Waine, Robbie Blake, Tony Grant, Matthew O'Neill. Subs: Nik Michopoulos, Mark Rasmussen, Robert Grimes, Rhys Carpenter.
There is no news of the Tranmere side, in fact Tranmere Rovers seemed unaware of the fixture when we contacted them earlier despite the fact that it is taking place at their Prenton Park ground this afternoon.