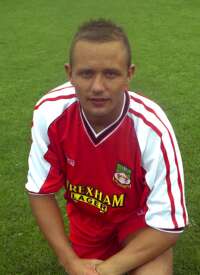 Lee Trundle - two goals
The first half wasn't too bad in terms of scoreline although Wrexham, with Carlos Edwards in outstanding form, were much the better side. The half time score was 2-1 with Damien Hindle scoring his first ever reserve team goal to pull the Clarets level after 24 minutes. We only trailed at half time because of a last minute goal.
Our best spell came early in the second half but it wasn't to last. The scoreline didn't look as though is was going to be that bad but Wrexham scored four in the last eight minutes.
Ukrainian trialist Sergei Kandaurov was, shall we say, poor and apart from giving one of the goals away showed very little interest in the game. It is very unlikely that he will be seen in a Claret and Blue shirt again.
The Wrexham scorers were Trundle(2), Moody, Williams, Evans, Chalk and Edwards.
Click HERE for the teams.

Read Peter Heywood's report