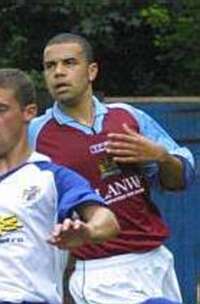 Marlon Broomes - will play against the Clarets
Tonight's game against Preston will be just our fourth home game of the season and only the second since the beginning of September.
It is just a year since this fixture was played last season when the Turf Moor crowd was boosted by Clarets Mad's 'Roll up for the Reserves' campaign and was a night when we got to see two trialists in Greek Giorgios Alexopoulos alongside Canadian full back Rick Titus.

Click HERE to see report from last season.
Disappointingly reserve team crowds have now fallen back to where they were and may even have dropped further, the Bob Lord has certainly been sparse for this season's games.
There is no news of the teams as yet although Preston have said that they will field a strong team with first teamers alongside some of their successful youth players. They did intend to include Pawel Abbott, Tyrone Mears, Michael Jackson and the player who almost became a Claret Marlon Broomes.
Jackson, one of Stan's former Bury players and a constant thorn in Burnley's side, will not play. He has today left Deepdale and joined Tranmere Rovers on a month's loan. Another hoping to play was Brian O'Neil on trial after leaving Derby but a thigh strain keeps him out.
Almost certainly the Burnley team will be one of inexperience given the number of injuries but if you can get down to the Turf for this one the lads will appreciate your support, but take your thermals because a cold night is predicted.