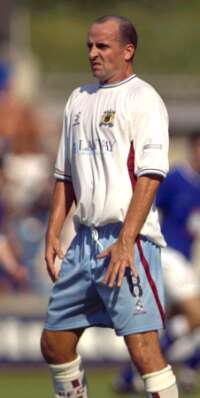 Paul Cook - first Clarets reserve game
We would like to stress that the game is at Boundary Park and not at one of the number of non league grounds that Oldham have been known to use for reserve team games. This is a disappointment, Clarets Mad were looking forward to another
Enjoyable evening out at Mossley
.
The Clarets take with them a far more experienced team than has been the case recently and all of the five subs from last night's game with Rotherham will be in the starting line up. Alongside them will be Lenny Johnrose and taking a further step back towards full fitness Mitchell Thomas.
We were told over the weekend that Andy Payton was hoping to play but he hasn't make the squad and neither has Steve Davis despite rumours last night at Rotherham that he would. Arthur Gnohere misses the game at Crewe a week on Saturday with suspension but the chances of Steve Davis being fit to replace him now look in doubt with the game now just ten days away.
There is no sign of Dimitri Papadopoulos in the squad not even making the bench. There has been no indication from the club that he is either injured our away again, in fact he was definitely at Barnsley on Saturday, sitting with both Nik Michopoulos and Luigi Cennamo in the stand.
Cennamo plays tonight in goal for the first time since his first team debut at Cheltenham. He looked very nervous when he came on for the injured Michopoulos in the cup tie and rabbits and car headlights have been mentioned. Since then he hasn't even made the bench in four first team games as we take the big risk of having no keeper on the bench.
The line up tonight is: Luigi Cennamo, Mark McGregor, Graham Branch, Gordon Armstrong, Mitchell Thomas, Joel Pilkington, Brad Maylett, Paul Cook, Tony Ellis, Robbie Blake, Lenny Johnrose. The subs will be chosen from: Earl Davis, James Salisbury, Mark Rasmussen, Matthew O'Neill, Andrew Waine, Andrew Leeson, Paul Scott.
We also have news of the Oldham team and they include a Manchester United player in their team, 18 year-old full back Steven Clegg along with Argentinian Cristian Colusso.
There is also some experience in the Oldham side. It is two years this week since we signed Ian Wright and on his debut he was marked by Wigan's Stuart Balmer. After a move to Oldham in the summer he finds himself lining up against our reserves tonight as do goalkeeper Gary Kelly, Paul Rickers and John Eyre a summer signing from Hull.
Oldham have made one change from the original line up, Matthew Tipton has this morning signed for Macclesfield Town on a free transfer and his place is taken by Scott Vernon.
The Oldham line up is: Gary Kelly, Steven Clegg, Stuart Balmer, Dean Holden, Ben Smith, Paul Rickers, Danny Boshell, Lee Hardy, Scott Vernon, John Eyre, Cristian Colusso. Subs: Michael Davenport, Chris Grange, Danny Hall, Joe Doran, Adam Griffin.