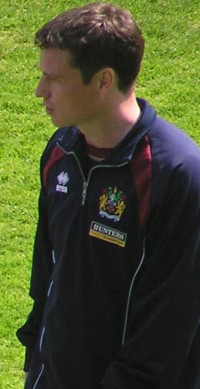 Reserve team coach Steve Davis

That's mainly been to the FA Premiership Reserve League (FAPRL) that was ever increasing in size. The old rules for this league were that clubs could continue there for two years after their first team had been relegated from the Premiership but around four years ago it was relaxed even further, allowing clubs a permanent place providing the first team was not relegated to League One.



However, there have been further changes and now a club's reserve team can only remain in the FAPRL if the first team is in the Premiership, i.e. a maximum of twenty clubs, and so that means a number of clubs were looking for an alternative league.



With this set to happen, a new Championship reserve league had been planned, split into two regions north and south, but this will no longer go ahead with an insufficient number of clubs committing to it.



So does that mean a much needed boost to the Pontin's League? Not on your life. The clubs being forced out of the FAPRL include such as Coventry, Derby, Leicester, Sunderland and Wolves and all five of them have opted not to play in the Pontin's League but instead will play friendly games.



Sunderland, for instance, would have had the option of playing in a league alongside such as Darlington, Hartlepool, Grimsby, Doncaster, Lincoln, Scarborough, Scunthorpe, York and Sheffield United's 3rd team and they were not happy about the level of opposition.



Speaking on behalf of Sunderland their Chief Executive Peter Walker said: "Reserve games are necessary not only to aid senior players in their recover from injury but also as a means to give experience to younger players. We feel the club's needs are best served by securing a higher level of opposition to play against and it will also ensure that we can arrange fixtures to the club's own timetable."



So, we can't expect any new clubs to join us in the Pontin's League, and already we know that one of the existing clubs Preston have opted to take the same route as the likes of Sunderland by playing friendlies as well.



Are we heading towards the end of competitive reserve team football for teams outside the Premiership?