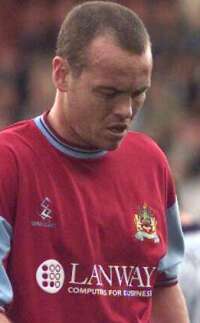 Gordon Armstrong - captains the reserves
Needless to say it is an inexperienced Burnley side who travel over to West Yorkshire given the current injury and suspension situation.
There are just two players in the team with first team experience. Gordon Armstrong captains the team whilst Anthony Shandran plays his second game after recovering from a stress fracture.
We also include the younger players who have been occupying places on the first team bench recently, namely Earl Davis, Matthew O'Neill, Mark Rasmussen and Andrew Waine.
The Burnley team is: James Salisbury, Andy Leeson, Paul Scott, Earl Davis, Gordon Armstrong, Joel Pilkington, Mark Rasmussen, Andrew Waine, Anthony Shandran, Damien Hindle, Matthew O'Neill. Subs: Danny Pitham, Steven Richardson, Richard Chaplow, Sean Blakey, Rhys Carpenter.
For those expecting Brad Maylett to play news was finally given yesterday that he is out again with a re-occurrence of the achilles injury that kept him out at the beginning of the season. That explains his absence from recent first team squads.
Huddersfield have severe problems due to financial constraints and four members of their top of the league reserve team were released last week. Jon Dyson and Doni Clark will therefore be out but the other two Chris Senior and Adam Fowler have agreed to play.
However they will play their most experienced reserve team of the season with a number of first team players filling. Players such as Chris Holland, Kenny Irons. Jon Stead and Eddie Youds will play and Huddersfield will line up:
Phil Senior, Thomas Heary, Adam Fowler, Chris Holland, Eddie Youds, Chris Brown, Chris Senior, Kenny Irons, Jon Stead, Jon Worthington, Paul Macari. Subs: Simon Baldry, Andy Jeffrey, Nat Brown, Ben Austin.